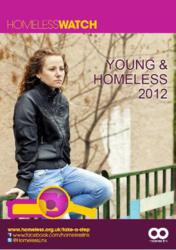 Homelessness among the under-25s is increasing in many areas while unemployment, rising rents and cuts to homelessness and youth services are leaving many with nowhere to turn.
(PRWEB UK) 3 December 2012
Young & Homeless 2012 has been published today, and its findings of provide a strong case as to why the Government should not go ahead with any proposed plans to cut housing benefit for under 25 year olds.
The study found that at a time of rising homelessness among under-25, the main cause of which is family breakdown, welfare reforms are restricting the ability of communities to house all those who need help and potentially adding to a rise in homelessness.
Welfare changes include the extension of the shared accommodation rate (SAR) to under 35 year olds, which has increased the number of people competing for shared accommodation previously prioritised for under 25 year olds.
The survey of 117 homeless charities and 101 local authority housing services found that, due to these changes:

65% of local authorities report a negative impact on the ability of young people to access private rented accommodation due to the extension of SAR
Almost half of local authorities report that capping housing allowance for young people has had a similar impact
Less than 1 in 3 local authorities have developed schemes with landlords to respond to the changes
60% of providers reported a decrease in the availability of private accommodation to move young people onto
Young & Homeless 2012 follows a similar report from Homeless Link in 2011. The study highlights some deep concerns for the sector, showing that since last year:
50% of providers say more young people are seeking support
65% of young people supported by providers are homeless due to relationship breakdown with family, friends or partners
54% of providers report closures of youth services in their area due to funding cuts
More than half of providers are turning young people away because they are full
Almost half of services have reported difficulties supporting 16-17 year olds due to ineffective relationships with children's services
Rick Henderson, Chief Executive for Homeless Link, the umbrella body for homelessness charities, says:
"These findings highlight the impact that capping welfare for young people is already having on their ability to find housing. Homelessness among the under-25s is increasing in many areas while unemployment, rising rents and cuts to homelessness and youth services are leaving many with nowhere to turn.
"Cutting housing benefit would do nothing to help young people with no safe place to go because they have faced abuse at home or their family has fallen apart. Nor will it help those who have to claim housing benefit because they are in low paid jobs and face high rents.
"What we need now is services that prevent homelessness, such as safe emergency accommodation, and local authorities, providers and landlords working together to increase access to private rented accommodation.
"These young people are this country's future and it's time we began investing in them."
Jean Templeton, Chief Executive of St Basils, says:
"This survey puts the spotlight on the experience of agencies working with young people who are homeless or at risk. St Basils alone has seen a 32% increase in young people approaching us for assistance in the last year at a time when resources are being reduced and public sector funding is under pressure. We are accommodating a higher proportion of young people under 19 who have no experience of fending for themselves and are unable to return home.
"Investment in accommodation and support for these young people enables them to develop the confidence and skills to look after themselves and rebuild relationships. This saves longer term distress and public sector costs. We have a collective responsibility to care about our young people and when times are hard, it's time to step up not step back."
Una Barry, Deputy Chief Executive or Depaul UK, says:
"Depaul UK have called a National Nightstop Conference as a Call To Action on the rise of Youth Homelessness, to prevent young people sleeping rough and falling prey to sexual exploitation and abuse."
"The conference will focus on the SPARE ROOM campaign that Depaul hope to launch in the new year calling for more host volunteers to help provide a safe bed for the night and to avoid the use unsuitable emergency accommodation such as B&B."
"Family breakdown is still the main cause of youth Homelessness and Nightstop in London has seen an increase in demand of 60%. Increase in rents and future plans to remove housing benefit for under 25's could put young people at further risk of homelessness."
CASE STUDY: Mariam, 23
Mariam moved out of her home, where she was being abused, and into a women's refuge at the age of 19.
"My mixed background – western mother and strict Muslim father – left me feeling like I didn't fit in. My dad was abusive towards my mum and, as I got older, towards me too and I was diagnosed with depression at 14.
"My dad's side of the family wanted to force me to marry my cousin. I had to get out. It wasn't easy to leave but the local police took me to the refuge. Now, four years on, I stay with friends but it was only meant to be temporary. I still class myself as homeless. I want my own place so I can start fresh but I'm finding it hard to find somewhere."
Mariam would have to wait another 12 years before she qualifies for enough to afford her own private accommodation under the current welfare scheme, and would not qualify for any support under the proposed changes to cut housing benefit for young people.
Promoting innovative solutions to tackle youth homelessness is a key element of the Government's prevention agenda, Making Every Contact Count. The Young & Homeless report makes a number of recommendations to help prevent youth homelessness, including:
the government does not remove access to housing benefit for under-25s and continues to provide a welfare support for vulnerable young people
every council has a clear strategy for tackling youth homelessness and provides practical steps for achieving this, based on the Positive Pathway* approach
the government supports local authorities, providers and landlords to work together to ensure young people can access private rented sector accommodation
every area puts suitable emergency accommodation in place for young people at risk of homelessness, such as Nightstops
funding is protected for key prevention services such as family mediation and advice services and greater investment is made in educating young people about what to do to avoid homelessness