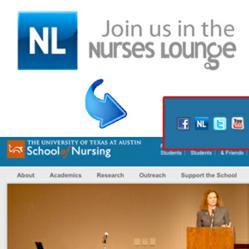 Dallas, Texas (PRWEB) December 05, 2012
MedCAREERS Group, Inc. (the "Company") (OTC Pink Sheet: MCGI) today announced that as of October 1, 2012 the company has secured a line of credit in the form of convertible debt from an investment group created by an existing investor. The monthly proceeds secured by this financing will be utilized to cover the monthly base operating expenses for the next 12 months and the continued growth of the Nurses Lounge, a professional network for nurses.
"With our low fixed cost and highly scalable business model, this funding is a significant component that will greatly aid the acceleration of our growth and position us to secure further capital as we fulfill our intended objective as the go-to professional network and recruiting site for the nursing profession", commented Tim Armes, President and Chief Executive Officer.
Nurses Lounge
Nurses Lounge is a professional network for nurses and is configured to solve many of the communication challenges faced by nurse organizations such as nursing schools, associations and employers by providing a more efficient and professional means for them to communicate news and information to their constituency, manage their association's communications to the broader nursing profession and build their brand within the nursing profession.
The Nurses Lounge also allows their nurse members with the ability to network on a professional basis without the fear of crossing social/work boundaries which has become more and more of an issue with the growth of social oriented networks.
With the growth of the network, Nurses Lounge will create a diverse revenue model including advertising, continuing education offerings as well as recruiting services.
In June 2012 a nursing faculty job board was launched to address the growing shortage of nursing faculty. This specialty site has already begun generating enough revenue to cover the site's monthly direct operating costs and is now contributing operating profits to help cover monthly fixed costs of general network operations.
To Learn More About the Nurses Lounge Click Here
Follow Nurses Lounge on Twitter
About MedCAREERS Group, Inc.:
MedCAREERS Group, Inc.'s (http://www.medcareersgroup.com) focus is to develop and build value through its wholly-owned subsidiary Nurses Lounge (http://www.nurseslounge.com), an online professional network for nurses and communication platform for nursing organizations looking to use today's networking technology to stay connected to their nursing constituents and broader nursing community.
MedCAREERS Group, Inc. Contact:
Timothy Armes, CEO
972-393-5892
tarmes(at)nurseslounge(dot)com
This press release may contain forward-looking statements, including information about management's view of the Company's future expectations, plans and prospects, within the safe harbor provisions under The Private Securities Litigation Reform Act of 1995 (the "Act"). In particular, when used in the preceding discussion, the words "believes," "expects," "intends," "plans," "anticipates," or "may," and similar conditional expressions are intended to identify forward-looking statements within the meaning of the Act, and are subject to the safe harbor created by the Act. Any statements made in this news release other than those of historical fact, about an action, event or development, are forward-looking statements. These statements involve known and unknown risks, uncertainties and other factors, which may cause the results of the Company, and concepts to be materially different than those expressed or implied in such statements. These risk factors and others are included from time to time in documents the Company files with the Securities and Exchange Commission, including but not limited to, its Form 10-Ks, Form 10-Qs and Form 8-Ks. Other unknown or unpredictable factors also could have material adverse effects on the Company's future results. The forward-looking statements included in this press release are made only as of the date hereof. The Company cannot guarantee future results, levels of activity, performance or achievements. Accordingly, you should not place undue reliance on these forward-looking statements. Finally, the Company undertakes no obligation to update these statements after the date of this release, except as required by law, and also takes no obligation to update or correct information prepared by third parties that are not paid for by the Company.