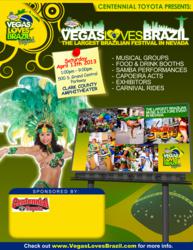 We are very excited to have such a wonderful company like Centennial Toyota joining up to share such an exciting opportunity with us
Las Vegas, NV (PRWEB) December 04, 2012
Today, General Manager, Anthony Woods of Centennial Toyota confirmed they are indeed securing their spot as the title sponsor for the first annual Vegas Loves Brazil festival which will take place on April, 13th, 2013 at the Clark County Government Center Amphitheater. "We are very excited to have such a wonderful company like Centennial Toyota joining up to share such an exciting opportunity with us" says Vegas Loves Brazil creator and organizer, Ramon vanMeer. Centennial is the first of many to sign on with the event. "With the addition of Centennial signing on, other local businesses will see the value of Vegas Loves Brazil as a tremendous opportunity to be part of such a diverse event while promoting their products" vanMeer says.
The event will be the first of its kind for the Las Vegas valley and showcase traditional Brazilian cultural. The festival will feature live performances from Brazilian musicians; capoeira and samba dance groups and offer some of the best Brazilian food and drinks in Las Vegas.
In addition, the festival will be extremely kid friendly with games, rides, face painting and a small city of bounce castle amusements.
The folks at Centennial Toyota will be supplying the event with a variety of Toyota's newest vehicles for display. In addition the display vehicles, the northwestern Las Vegas car dealer will also have a sales staff on hand to answer questions from the expected 3000 event attendees.
For additional information and to purchase tickets visit: http://www.VegasLovesBrazil.com also find them on Facebook here: http://www.facebook.com/VegasLovesBrazil
Sponsorship opportunity requests can be emailed to info(at)vegaslovesbrazil(dot)com
Additional information about Centennial Toyota can be found here: http://www.centennialtoyota.com/