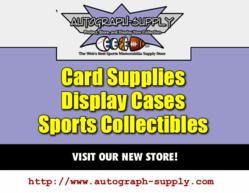 offers sports fans and memorabilia collectors a better customer experience and a constantly expanding product selection. Bulk Pricing is available for most products
Union, NJ (PRWEB) December 06, 2012
Autograph-Supply.com has been one of the leading destinations for Card Supplies, Display Cases, and Sports Collectibles on the Internet since its initial launch in 2006. The site was primarily built to focus on the needs of collectors, sports memorabilia dealers, and sports fans of all teams. Customers were able to choose from a wide selection of quality products from many leading manufacturers, such as Ultra-Pro, Riddell, Rawlings, and Schutt to name just a few.
On Nov 19th, Autograph-Cards LLC, the parent company of Autograph-Supply.com launched an enhanced version of its website, bringing a deeper product list and a collector-friendly shopping experience to their customers.
The newly redesigned website was built to accentuate the deep roots of the company while sharing the staff's passion for sports and sports memorabilia.
"The redesign has been completed in a way that will ensure a seamless transition from the old to the new website. Through the experience we've gained since the website's initial launch, we have identified many things that we felt needed improvement in order to bring the site in line with today's changing web standards" said Matt Drago,VP of Business Development, "Autograph-Supply's goal is to take care of its customers first and we have taken every step to make sure all of our customer service functionality is top notch. This new website signals another important step in our team's continued commitment to providing exceptional customer service."
Further complementing the customer experience, the new website features an account login, 128-bit SSL Payment Gateways for safe ordering, and improved server technology for higher performance.
"In addition to these technical upgrades, we have both expanded and enhanced our product offering on Autograph-Supply," said Evan Kanter, President of Autograph-Cards, LCC, "We are very pleased to have introduced a large variety of products from a number of other well known brands, such as: Highland Mint (gold and silver coin related sports collectibles), Photo File (licensed unsigned photos), Louisville Slugger (custom-inscribed personalized bats), and Spalding (team logo basketballs). Our expectations are that this website relaunch also paves the way for a great mobile site in the future."
With their reintroduced website, Autograph-Cards, LCC offers sports fans and memorabilia collectors a better customer experience and a constantly expanding product selection. Bulk Pricing is available for most products. Also, don't forget to check out the Autograph-Supply website for its schedule of upcoming player signings.
Autograph-Cards LLC, and its parent company Q Webstores Inc, specialize in the operation of large-scale E-commerce websites. On each of the company's websites, they strive to offer a wide selection of quality products, outstanding customer service, a fun and easy-to-use website, and consistent everyday wholesale prices. Besides Sports Memorabilia Supplies and Display Cases, the company continues to evolve its product offering and in the past two years, have started selling products in several new categories including toys, sporting goods, and sports fan apparel.
Contact Information:
Jennifer McClaren
Director of Sales & Vendor Relations
Email: jenn(at)QWebstores(dot)com
Phone: 908-258-7228
Fax: 908-258-7224
###