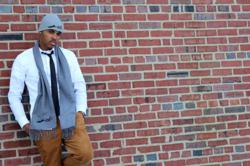 Entrepreneur Label on the Rise!
(PRWEB) December 04, 2012
Recently the young company Entrepreneur Label has used the power of Instagram to leverage products and create a presence among Northern New Jersey. Just yesterday their online site received 2500 hits in one day, about a 500% increase since last month when they first launched. Adjusting for the weather Entrepreneur Label has now incorporated beanies & scarfs to match the harshness of the winter. Up until this December the label has only sold spring, summer, and fall "Inspiration Snaps", some believe it was the actual release of the new winter beanie and scarf that cause such a jump in activity.
Entrepreneur Label plans to release their full winter package during the first week of the New Year January 2013. Sources say the new "Perseverance>" Collection will host four new color beanies paired with matching cashmere scarfs. Beanies and scarfs are retailed to be sold at a total of 70.00USD, 30.00USD for beanies and 40.00USD for scarfs.
Besides the release of their new winter collection Entrepreneur Label fights hard to establish a presence on the crowd funding source Kickstarter. Entrepreneur Label recently launched their campaign with a goal to raise 20K before New Year's Eve of 2012. To encourage donations Entrepreneur Label has constructed a list of rewards to match all contributions starting from 10.00USD to 1000.00USD. Mostly all of the rewards are favorable to those who consider pledging a few bucks. For only 10.00USD one can receive a limited edition Entrepreneur Label T-shirt, 5 Entrepreneur Label pins, and a hand written thank you note. Entrepreneur Label even took it a step further to offer founder recognition to those who pledge 1000.00USD or higher.
Infused with symbolic images, Entrepreneur Label is a clothing line designed to encourage individuals to become entrepreneurs. Currently on located on their premium snaps are phrases such as "Ambition>" & "Dreams>". Entrepreneur Label uses these symbols to stress the qualities of Ambition and following your dreams. Entrepreneur Label believes clothing can become a tool used to tap into the mind of persevering business men or women. Much stronger than the materials of their clothing is the message embedded in the product itself. Entrepreneur Label sells each product as a symbol of "Ambition>" or "Dreams>". Along with their inspirational clothing, the label hosts a speaking series to educate individuals on the intensive process of Entrepreneurship.