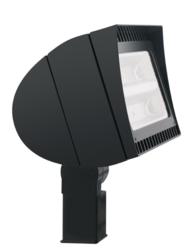 RAB Lighting's 78 Watt FXLED78 floodlight offers almost 70% energy savings over the 250 Watt metal halide floodlight that it was designed to replace.
Northvale, NJ (PRWEB) December 05, 2012
RAB Lighting, the leading manufacturer of affordable LED lighting, is the proud recipient of the 2013 BOM Top Products Award for its energy efficient FXLED78 Floodlight. The FXLED78 was selected from over 560 products that appeared in Building Operating Management (BOM) magazine and/or http://www.facilitiesnet.com "Product of the Day" between October 1, 2011 and September 30, 2012.
The winners were determined by building and facility management executives who participated in a national survey. All winners will be featured in BOM's January 2013 issue and identified as Top Products Award winners.
Ideal for building façade lighting, signage, landscaping, security lighting and other outdoor commercial applications, the FXLED78 delivers over 5900 lumens of evenly distributed light and almost 70% energy savings over the 250 Watt metal halide floodlight that it was designed to replace.
"We are proud to accept the 2013 BOM Top Products Award for our FXLED78 Floodlight," says Ross Barna, CEO of RAB Lighting. "This versatile lighting fixture gives building managers a powerful, affordable, high quality light source with long life, low maintenance and energy efficiency. It's no wonder that it's turned out to be one of our most popular LED fixtures."
Like all RAB LED fixtures, the FXLED78 comes with a five-year bumper-to-bumper warranty and a 100,000-hour LED lifespan based on IES LM-80 results and TM-21 calculations.
About RAB Lighting:
RAB Lighting, located in Northvale, New Jersey, is a leading manufacturer of sustainable outdoor lighting fixtures, using LED, HID, CFL and motion sensing technology. Founded in 1946, RAB sells professional grade lighting nationwide through a broad network of electrical distributors. RAB also offers lighting design and application engineering services, free of charge, to produce lighting layouts that enable end-users and installers to visualize what their lighting will look like before they buy. For more information, call (888) RAB-1000 or visit http://www.rabweb.com.