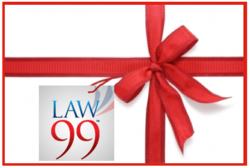 We have brought the gift of Law99™ to support these people, who deserve to enjoy their holidays as much as the next person.
Virginia Beach, Virginia (PRWEB) December 05, 2012
Offering solutions to a wide range of legal problems, Law99™ is a convenient platform that consumers can use to find experienced legal help at a low price. The company provides individuals and small businesses a ray of hope in an industry and time where legal fees reach thousands of dollars per consultation. This platform comes in handy now more than ever because of the holiday season. Consumers can simply visit the website and get a lawyer, all through an automated system with no obligations and no hidden fees.
The holiday season is filled with festivities, however, this time of year is known for its fair share of problems. Some common legal problems during the holidays include: Divorce, Child Custody Issues, Modification of Child Access Orders and DUI / DWI.
Although these legal issues may initially seem colossal, you can enjoy this season to its fullest extent by visiting Law99.com. This free platform is truly the light at the end of the tunnel. In fact, Law99™ even has the power to shorten the length of that tunnel, so that you can be free from all your legal troubles as soon as possible.
At the end of this year, Law99™ can help you move forward with your life and offer hope for a better year. This holiday gift will help you take back control of your life at a price you can afford. With low prices and a highly transparent system, you will know the exact progress of your legal matters, at an affordable rate.
This company offers hope to those who find it impossible to pay high legal fees and at the same time, it provides courage to those who have been putting off legal issues for a while. Finally, people with legal problems have someone reliable and trustworthy to go to, someone who is actually there to help them in the spirit of the holidays.
Law99™ offers the same low rate of $99/hour or less for individuals and companies, even though many lawyers are known to hike up their charges when dealing with companies. According to Cynthia Martin, "We realize that there are millions of people out there who cannot fully enjoy their holidays because of impending legal problems. We have brought the gift of Law99™ to support these people, who deserve to enjoy their holidays as much as the next person. We encourage them to use our free platform where individuals and businesses can hire experienced lawyers to save themselves from legal ramifications without exceeding their budget".
About the Company
Started in 2012, Law99.com is a legal services platform that provides legal representation at a low rate of $99 per hour or less. The platform itself is free and consumers just have to pay discounted lawyer fees. The company has been formed to provide access to legal help to middle class Americans and small and medium businesses. It believes that assisting these entities will help them become self-reliant and consequentially, facilitate a faster economic recovery for the United States.