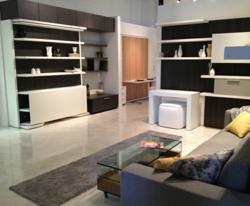 "Calgary is ready for a product that not only changes the way people think about furniture, but the way they live in a space." – Darren Malin, Co-owner of Resource Furniture Calgary
Calgary, Alberta, Canada (PRWEB) December 05, 2012
Resource Furniture's fifth Canadian location is causing quite a stir. The positive response to the new space-saving, transformative furniture showroom is evidence of a growing lifestyle that demands smarter design for better living - a concept perfectly suited for one of the fastest-growing metropolitan areas in Canada.
According to Calgary location co-owner, Mark Adolf, "The reaction to the products has been unbelievable. When people see them for the first time, they are literally speechless. Once the concept sinks in, they realize how much these products could enhance their living situation."
International retailer and top distributor of multifunctional furniture, Resource Furniture offers furniture pieces that allow for smarter, greener, more efficient living, particularly in areas where space can be a premium. Featuring transforming systems designed and manufactured in Italy by Clei s.r.l., the fully integrative systems include wall beds, seating, tables, work spaces and storage meant to complement a variety of layouts and design aesthetics.
Located in the Sam Livingston Building in the heart of downtown Calgary, fast becoming the "go-to" destination for shopping and dining, Resource Furniture is a welcome addition to the area. Perfectly positioned in a former government building, the innovative interior pieces are ideal for the locale.
"We believe that Calgary is ready for a product that not only changes the way people think about furniture, but the way they live." – said Darren Malin, Co-owner of Resource Furniture Calgary. This is a company committed to changing the relationships people have with their space.
Resource Furniture Calgary officially opened its doors October 1, 2012 and is located at 104-510 12 Ave SW (entrance on 4th Street), Calgary, Alberta. Winter hours are Monday to Saturday, noon to 5:00 p.m. For an appointment or more information, please contact Darren Malin or Mark Adolf at 403-457-5711.
About Resource Furniture
Resource Furniture has built a global network of showrooms offering a range of top-selling luxury European furniture. Resource Furniture is dedicated to redefining the use of space and pushing the limits of technology and design. Since 2000, Resource Furniture has imported and distributed inspired, modern furniture from the finest and most innovative European designers. The Resource Furniture collection has been carefully curated - each piece selected for its ability to transform a space with both beauty and functionality. For more information, visit one of the showrooms in New York, Toronto, Vancouver, Montreal, and Calgary or on the web at http://www.resourcefurniture.com.