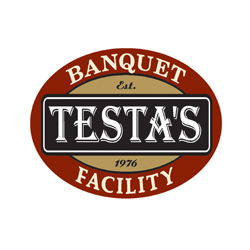 Southington, CT (PRWEB) December 05, 2012
Just in time for the holiday season, Testa's Banquet Facility in Southington is pleased to unveil a brand new facility redesign that will be on display for their annual small business holiday party and an exclusive wedding tasting party on January 24th. The remodeling coincides with newly updated website courtesy of LT Creative and is all part of a brand new reboot for the successful Connecticut banquet facility. Testa's has been a preferred event venue for many special occasions including weddings, conferences, bridal showers, private parties and proms.
The remodeled banquet facility now features a bridal suite and has a capacity for up to 350 guests, making Testa's an ideal venue for intimate private parties and large gala weddings. The highlight of the redesign is a brand new bridal suite that offers brides a comfortable and relaxing private room when she needs a moment to herself during the big day to adjust her hair, touch up makeup or just have a moment alone. Many banquet facilities are realizing the importance of a bridal suite when couples are choosing a venue for their Connecticut wedding and Testa's new bridal room includes a full sitting room and washroom that will be an attractive incentive for new brides and grooms who are ready to tie the knot.
The opening of the new banquet facility comes at the perfect time since Testa's is prepping their venue for two important events. The first is a holiday party for small businesses that will take place on Friday, December 14th and features a full sit down dinner with a menu of hot and cold hors d'oeuvres, penne ala vodka and a midnight pastry station. The party will include live music, dancing and an open bar. Testa's will also host another small business holiday party on Saturday, January 12th that is all inclusive and has table seating up to 10 people.
The other special event that will take advantage of the redesigned event venue will be an exclusive, reservations only, wedding food tasting on Thursday, January 24th from 6pm-8pm and will allow brides and grooms to sample from the Testa's wedding menus to decide on what dishes will fit their particular wedding theme. Testa's will offer up a number of cuisine choices including cut prime rib, twin stuffed lobster tails and chicken cordon bleu all prepared by the expert chefs on staff.
Since 1976, the Testa family has owned and operated their restaurant and banquet facility in Southington. During this time the venue has established a strong bond with many loyal customers who rave about their famous skinless and seedless home style pasta sauce, marina sauce and tomato basil sauce that is available at major food chain stores including Super Stop & Shop and the Big Y. With the updated banquet facility and website redesign Testa's is hoping to reach out to new customers including small businesses, private parties and brides and grooms. To make a reservation for the holiday small business party or wedding food testing, or to inquire about reserving Testa's banquet facility for your next party or corporate event, contact Enzo Testa at 860-628-8509 or visit them at http://www.testas.net