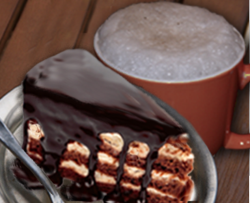 "Eating a rich, decadent piece of chocolate cake isn't going to provide the same health benefits of cocoa that is minimally processed which retains the highest levels of natural flavanols, that contain the highest concentration of antioxidants."
Denver, Colorado (PRWEB) December 05, 2012
The Holidays are fast approaching and this means Holiday parties and office celebrations that will include rich chocolate candies, desserts and other chocolate confections. As a result of over indulging in fattening sweets many will pack on extra unwanted pounds; only to hit the gym and start new diets in the New Year in an attempt to lose the unwanted weight. To avoid this vicious cycle, brewing cocoa offers a healthy way to satisfy chocolate cravings. CocoaJoe is a Denver, Colorado based company that produces and sells organic, premium brewing cocoa. Brewing Cocoa provides the enjoyment of chocolate taste without the saturated fat, sugar, cholesterol, calories and unhealthy weight gain. To help introduce healthy and great tasting brewing cocoa to more people, the company is offering free 2 ounce samples for a nominal $3.00 shipping charge to the first 500 people to respond. Visit their website at http://www.drinkcocoajoe.com to take advantage of this offer.
Although the concept of brewing cocoa is still relatively new to most people today, the consumption of brewed cocoa actually dates back over 2,000 years to ancient Mayan and Aztec civilizations. Revered for its great taste, medicinal and mood enhancing properties; kings, priests and nobility drank brewed cocoa daily. These ancient civilizations valued cocoa beans so much that it became a form of currency.
Today with the increased attention and research available on the health benefits of cocoa more people have become aware of its health benefits. However confusion as to which types of cocoa contain the most health benefits still abounds, after all, not all cocoa is created equal. "Eating a rich, decadent piece of chocolate cake isn't going to provide the same health benefits of cocoa that is minimally processed to retain the highest levels of natural flavanols, which contain a high concentration of free radical fighting antioxidants." Stated Karen M. Soika, M.D., an anti-aging medicine specialist who owns the Cosmetic Medic practice in Connecticut and New Jersey.
To ensure maximum health benefits, look for cocoa or chocolate that is minimally processed and has not undergone Dutch processing (cocoa that is treated with alkali), also avoid cocoa and chocolate that are loaded with saturated fats and sugars. CocoaJoe provides organic, high quality brewing cocoa that is 100% naturally and minimally processed (roasted and ground) to produce premium brewing cocoa that retains most of the cocoa beans natural flavanols and anti-oxidant properties. Brewing cocoa is easy to prepare and enjoy. Simply bring a pot of water to boil, then lower the heat to simmer, add the ground brewing cocoa and let steep for at least 10 minutes. Then pour through a strainer into a cup, add sweetener or dairy product if desired, drink and enjoy the chocolate flavor and health benefits.
To have a happy and healthy Holiday season visit CocoaJoe's website for Holiday recipe ideas that provide healthy ways to satisfy chocolate cravings using premium brewing cocoa.
About CocoaJoe, LLC
CocoaJoe is a Denver based company that produces hand-crafted, artisanal batches of premium brewing cocoa. The company is committed to purchasing organic cocoa beans from Fair Trade and ethically traded and sustained farmers located throughout the world. The company is dedicated to educating the world on the health benefits and great taste of this new, yet ancient, beverage. CocoaJoe endeavors to improve the world one cup at a time. To learn more about CocoaJoe or to order their premium, organic brewing cocoa visit http://www.drinkcocoajoe.com