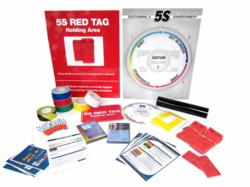 "The 5S starter Kit from Creative Safety Supply was a huge success in getting our 5s program off on the right foot. The kit had everything we needed to train our entire staff on the principles of a 5s program."
Lake Oswego, OR (PRWEB) December 07, 2012
Any type of business from retail store to a power plant, from clinics and hospitals to television stations, and all areas within a business, will realize benefits from implementing a 5S program. Creative Safety Supply, a leading supplier of safety products, has a multitude of products from training tools to floor markings and signs to help any business achieve visual order, organization, cleanliness and standardization. The expected results from a 5S program are improved profitability, efficiency, service and safety. Once the results are attained, the workplace will change from being chaotic to a lean facility making a business competitive and successful.
Proper labeling and use of 5S posters and signs are an important part of 5S. One of Creative Safety Supply's products to get a business started is the 5S Starter Kit which includes everything required to jump start 5s. The kit includes 5s tapes, 5s red tags, 5s training DVDs and Powerpoint presentation, posters, and more. A training administrator for a large corporation commented, "The 5S starter Kit from Creative Safety Supply was a huge success in getting our 5s program off on the right foot. The kit had everything we needed to train our entire staff on the principles of a 5s program."
Anytime lean thinking and lean methods are mentioned, 5S programs are brought into the conversation as the system that will clean up and organize a workplace. 5s products will help a business reduce waste and optimize productivity through maintaining an orderly workplace and using visual cues to achieve more consistent operational results. A typical 5S implementation would result in significant reductions in the square footage of space needed for existing operations. It will also organize tools and materials into labeled and color coded storage locations. Creative Safety Supply has 5S products that will turn any facility into a lean environment.
For more information about 5S or other safety products, please visit http://www.creativesafetysupply.com/5s-training/ or call toll-free (866)777-1360 to speak with a professional representative who can answer all your questions.