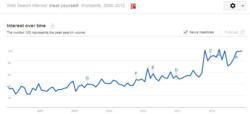 LEXINGTON, Massachusetts (PRWEB) December 03, 2012
Forbes Consulting Group, the leading market research company that directly accesses the emotional brain to discover consumers' deep emotional reactions, today announced results from a new study that reveals holiday shoppers this year are just as focused on pleasing themselves as they are on pleasing others. According to the study, which used the company's proprietary applied neuroscience technology, MindSight®, holiday shoppers in 2012 are still using gift giving to express love and affection, but there has been a significant shift in focus toward shoppers rewarding themselves as well. Compared to a similar holiday shopping study Forbes Consulting conducted last year, the latest MindSight® emotional profiles reveal that motivation to focus on unique personal needs when holiday shopping this season has nearly doubled in strength.
Although the trend toward self-gifting is exhibited in both men and women, the 2012 spike is significantly higher among women. Retailers and manufacturers appear to be aware of this trend and are seeking to capitalize on it by actively promoting sales on items designed to "treat yourself" such as perfume, cosmetics and jewelry.
"Perfume is distinctively associated with striving to perfect self presentation, and is also a distinctive means for expressing one's individual taste and style," said Dr. David Forbes, President and CEO of Forbes Consulting Group. "However, buying perfume can pose emotional risks similar to purchasing rare wines or works of art – shoppers can be afraid that they will ask the wrong questions or not know where to start. Perfume retailers should strive to provide friendly, down-to-earth advice that subtly educates the consumer and demystifies the world of perfumes. Removing the emotional worries of "getting it wrong" should boost sales of gift purchases both shoppers themselves and others on their gift list."
Forbes Consulting Group's study findings are echoed by the latest National Retail Foundation's tracking survey, which finds an increase in "self-gifting" among holiday shoppers, and is further substantiated by online consumer search records: searches related to treating yourself have shot up in 2012 and stayed at near peak levels since September of this year.
Consistent with Forbes Consulting's 2011 research findings, holiday shoppers who planned to participate in Black Friday this year were primarily motivated by the desire to "win" and achieve competitive victory with a "team" of friends and family, ultimately permitting them to express affection through gift giving. Notably, this year's motivational profile of Black Friday shoppers was particularly skewed toward fulfillment of personal needs, and this motivation was strongly associated with interest in entertainment media and consumer electronics. Retailers specializing in these categories should strive to appeal to these shoppers' needs to acquire impressive gifts and provide instant gratification for the themselves.
Black Friday shoppers expected to spend nearly 40 percent more on their holiday purchases than other shoppers this year ($1,200 vs. $870). Additionally, results showed that the mindset of veteran Black Friday shoppers is optimistic – they are more likely to feel that their personal financial situation is better this year than last year, feel that the re-election of Barack Obama is likely to further improve their finances, and expect that Congress will act to stave off the "fiscal cliff." They also present a distinctly positive overall MindSight® emotional profile. In stark contrast to the stereotype of Black Friday shoppers fighting crowds to find bargains out of necessity, this years results point to shoppers with the financial means and motivation to do considerable shopping for others and still have money left over for self-gifting.
Retailers hoping to capitalize on the self-gifting trend need to think about the emotional experience they provide to their shoppers. For example, Consumer electronics purchases are distinctively associated with feelings of achievement. But shopping for consumer electronics can feel isolating and disengaging To promiote a sense of achievement, consumer electronics retailers should quickly connect shoppers with knowledgeable sales associates trained to advise customers in making the "best choice."
About the Research
The 2012 research included a quantitative survey with 1,190 respondents in the U.S. ages 18-65. and was fielded in November. The survey covered the top shopping categories, including clothing, consumer electronics, entertainment/media, gourmet foods, arts and crafts, jewelry, perfume, spa services, power tools, small appliances, specialty alcohol, and, of course, toys.
The survey included the use of the proprietary Forbes Consulting MindSight® technology to evaluate shopper emotions and motivations.

MindSight® enables researchers to "talk to the emotional brain." It utilizes a patent-pending technique of applied neuroscience to obtain authentic emotional insight from respondents before their conscious mind can edit responses.
MindSight® employs the Forbes Consulting Unified Model of Human Motivation to explain respondent motivations (published in Review of General Psychology, June 2011).
MindSight® works by "talking with pictures," rapidly exposing a proprietary and statistically validated library of emotionally evocative images for respondents to react to – each image is linked to one category in the Model of Human Motivation.
About Forbes Consulting Group
Founded in 1985 and based in Lexington, Massachusetts, the Forbes Consulting Group is a strategic and innovative market research company providing clients with deeper levels of insight about emotions and motivations - and helping them gain strategic market advantage on the strength of this insight. In its 26-year history, Forbes Consulting Group has become a valued resource for Fortune 500 companies. For more information, including the opportunity to receive a demo of MindSight®, the company's proprietary applied neuroscience technology that uncovers authentic emotional insight from consumers before the rational mind can edit responses, please contact sale(at)forbesconsulting.com.