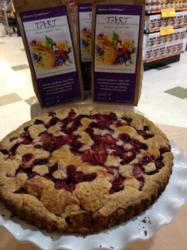 Amir will donate $1 from every TART sold on her website now through Friday, December 21, 2012
Brookline, MA (PRWEB) December 04, 2012
Charity means so much to Amir, founder of T'ART by Amour Creations. Last year, her first year in business, she baked for the cure, sold bags of T'ART and donated all her proceeds from her friend's Cape Cod fundraising yard sale to the Susan G. Komen 3-Day Race for the Cure. Linda left the event feeling very gratified knowing her small effort helped make a difference. It turns out, that her friend now makes a "Bake for the Cure" basket with a bag of T'ART mix, Komen pink ribbon apron, tartlette pans and a pink ribbon cookie cutter.
This year, Amir will donate $1 from every TART sold on her website now through Friday, December 21, 2012. The money raised will be used to buy toys for the children spending the holiday at the local Boston children's hospital. Amir says "I really want to bring some cheer to these sick kids. When my son was born, we spent a lot of time at the hospital and I am forever grateful for the fabulous medical support and kindness of others. And this is a small token of appreciation to give back to a special community that makes a difference in the lives of so many children and their families."
Celebrating holidays is not complete in Linda's household unless charity is part of it. When her children were small, she and her husband encouraged giving up a toy or buying a toy with some of their holiday money to sick children. And today, although her children are grown up, she enjoys continuing the tradition.
Help Linda achieve her goal by buying a few T'ARTs online to give as hostess gifts, stocking stuffers or bake some as desserts for your own parties or brunches. Linda has received inspiring notes like"I love the mix – it really simplifies the process, and lets you be so much more creative! With all that's going on for getting ready for the holidays, T'ART is such a huge help!! Made a batch of T'ART MUFFINS in different "flavors"." She hopes TART inspires many this year and the creativity flows with T'ART.
About Amour Creations: Amour Creations is a leading T'ART maker. To find where T'ART is sold go to http://amourcreations.net/find-us-near-you/ or to buy it online go to http://amourcreations.net/ . Orders ship within the next business day.