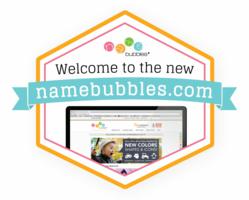 Our customers continually contribute to our growth and development with their feedback and creative suggestions. We involve them in our process and they make us better at what we do
Clifton Park, New York (PRWEB) December 04, 2012
Name Bubbles, the award-winning label manufacturer and e-commerce website, today announced the launch of a completely redesigned online shopping experience for customers. Just in time for the holiday season, the new innovative layout, easy-to-use personalization process and dozens of new features make selecting and customizing Name Bubbles stylish and durable name labels easier than ever.
"After years of planning, designing, and developing our new site, it was our customers who were the impetus for this exciting change" says Michelle Brandriss, Founder and CEO of Name Bubbles. "Our customers continually contribute to our growth and development with their feedback and creative suggestions. We involve them in our process and they make us better at what we do."
Another challenge for customers was the inability to shop on their beloved iPads, tablets and mobile devices. Families, in particular moms, prefer to shop on the go and on their own terms. "Our former website was Flash-based and wouldn't accommodate images on Apples devices and mobile phones easily, so as a growing company that built its reputation on being customer-centric, we knew that this had to be our top priority in 2012." says Brandriss. Collectively, moms had a buying power of $2.4 trillion in 2011, and mobile devices are part of their purchasing behavior. A report from Mojiva shows that in August 2012, prime back-to-school season, 97% of tablet-owning Moms made a purchase using their tablet.* And, for most retailers and online shopping sites, the busy back-to-school season is second only to holiday shopping.
Customer feedback also lead Name Bubbles to add a new Account Profile feature that allows parents to track their order every step of the way, view previous order history, write a review of their favorite Name Bubbles kids labels and include a gift message.
As customization is a huge part of the NameBubbles.com shopping experience, customers will now enjoy a newly updated and redesigned Bubble Maker - Name Bubbles' answer to the ultimate personalization tool. After years of listening to customer feedback, Name Bubbles' new Bubble Maker guides the user with step-by-step instructions from start to finish. The process allows for creative play that includes a sharper and more accurate order display.
"It is our hope that the new site delivers on our brand promise to keep our customers' happiness first and foremost," says Brandriss. With interactive product customization pages and high resolution photography, parents will find their personalized labels selecting fun, quick and easy. "Each page highlights a product with detailed information, key features, suggested uses and even videos for quick reference guides and instructions. The new NameBubbles.com is simply easier to use; a big concern for busy parents."
Customers will also love that the new site allows for more deals, more often. They'll be able to share their favorite products more easily on social media sites like Facebook, Twitter and Pinterest.
About Name Bubbles
Winner of the prestigious 2012 SheKnows Parenting Awards for Best School Supply and the renowned iParenting Award for Outstanding Products, Name Bubbles are press-and-stick name labels designed to help busy families keep track of toys, clothing, hand-held electronics, baby bottles, school uniforms, sports equipment, lunch boxes, backpacks and much more. Name Bubbles waterproof labels are dishwasher, laundry, and microwave safe. Custom packs are available for camp labels, school labels, daycare labels, sports labels and write on message labels - the sticker label you customize again and again. They can all be personalized and purchased directly on the Name Bubbles website at http://www.NameBubbles.com.
Source: Jamie Dunham, Marketing to Moms: Smartphone Moms are Apple Moms, August 2012
# # #