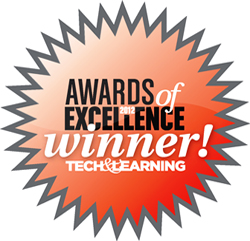 New York, NY (PRWEB) December 04, 2012
Pearson's three new iBooks Textbooks earned top honors in the 2012 "Tech & Learning" Awards of Excellence: Pearson Algebra I Common Core Edition, Pearson Geometry Common Core Edition and Miller & Levine Biology. Celebrating its 30th year, this recognition program honors K-12 technology products that break new ground, as well as those that added significant enhancements to proven education tools. Pearson leads the award program overall for the third consecutive year.
Launched in January 2012, this comprehensive suite of multimedia textbooks and reference titles is a prime example of Pearson's commitment to supporting schools as they make the bold transformation to digital. Each iBooks Textbook features research-based learning content brought to life with video, audio, assessment, interactive images and 3D animations.
"Our new interactive textbooks leverage iPad's potential as a tool for personalized learning, by making concepts come alive in 3D and animations, and allowing students to guide their own learning," said Deb Bonanno, senior vice president for Pearson. "We are honored to have this prestigious award program recognize the way our iBooks Textbooks are opening new horizons for digital learning in just their first year of availability."
The two Common Core Math iBooks Textbooks, Algebra I and Geometry, allow high school students to take control of their own learning and explore mathematical concepts in depth with enhanced visuals, interactivities, videos and self-quizzes powered by tactical touch functionality. With the Pearson Geometry Common Core Edition iBooks Textbook, students explore geometric concepts in depth with multi-touch 3D graphics, plus enhanced visuals and videos. Both math books are based on Pearson's Common Core print programs, are proven effective by independent research, fully address the Common Core Content Standards and infuse the Standards for Mathematical Practice throughout every lesson.
With the Miller & Levine Biology iBooks Textbook, the world's bestselling high school biology program leverages the power of mobile technology to make science come alive for students. Stunning four-color interactive pages add extraordinary depth to the award-winning curriculum as students control their own experience – pinching, stretching, tapping and dragging beautiful illustrations, animations, content, video and photos. Students can mark pages, highlight content, take notes and create flashcards for studying – all within the iBooks textbooks.
The three award-winning Pearson iBooks Textbooks are featured in the December 2012 issue of "Tech & Learning" magazine, as well as on the website.
For more information, visit mypearsonmobile.com.
About Pearson
Pearson, the world's leading learning company, has global reach and market-leading businesses in education, business information and consumer publishing (NYSE: PSO).
For more information:
Kate Miller, kate(dot)miller(at)pearson(dot)com – 800.745.8489