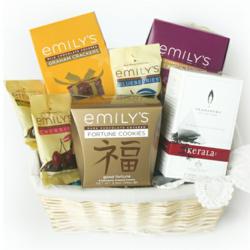 Every three minutes, a child is born with a clef- often unable to eat, speak, socialize or smile.
Tacoma, WA (PRWEB) December 04, 2012
The Christmas season is finally upon here! It is the time of year when waistbands grow, along with the need to help others. Emily's Chocolates, a local gourmet chocolate company based out of Fife, WA is doing their part this holiday season in a few different ways. Not only are they offering mouthwatering delicacies at an affordable price, they are also helping some very special children at the same time. Purchase Emily's Chocolates and help change a child's life forever!
Don't miss the chance to buy chocolate treats and do something amazing for a child in need. On the 13th of December, Emily's Chocolates will be donating 15% of all orders to Operation Smile, an organization that provides life changing surgeries to children with facial deformities. This Christmas season, let your love for chocolate be the reason a child can smile again.
Chocolate has an amazing way of making things better. Whether it's giving hope to disadvantaged children across the world, or just putting a smile on someone's face after a long day. Through the first half of December, Emily's Chocolates presents the 12 Deals of Christmas!
Some of these deals include 10% off holiday gift baskets, free giveaways with purchases and a plush snowman doll with a belly filled with hand crafted treats! Every special included within the 12 Deals of Christmas are fantastic gifts for family, friends, co-workers and neighbors. With all the money you will save from these amazing offers, you'll have more to give to those in need this Christmas season.
Happy Holidays from Emily's Chocolates!