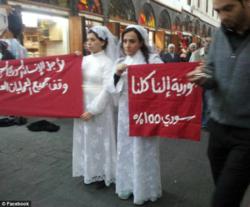 Washington, DC (PRWEB) December 03, 2012
The Syrian Expatriates Organization (SEO) demands the release of Syrian human rights activists Rima Dali, Rowa Jafar, Kinda and Lobna Zaour, and journalist Shatha Al-Maddad.
Dali, Jafar, and the Zaour sisters were arrested on November 22 2012 by security forces in Damascus without cause or due process. They were peacefully protesting while wearing white wedding dresses. According to published reports "The 'Brides of Peace' marched through the middle of Medhat Basha market in Damascus, Syria carrying red banners with white lettering that read 'Stop all military operations in Syria. 100% Syrian.' Rima Dali, a 32 years old lawyer, had been previously arrested in front of the Syrian Parliament building in Damascus by Syrian security forces in March 2012. She held a banner that read "'Stop the killing, so we can build a country for all Syrians.'
Read more: http://www.dailymail.co.uk/news/article-2239746/Damascus-Women-activists-held-protest-violence-souk-dragged-jail-wedding-dresses.html#ixzz2E0k47fxD
In a separate incident, Syrian journalist Shatha Maddad was arrested on November 1 2012 following a summons to appear at the offices of the domestic intelligence agency in Damascus. Maddad hails from the eastern city of Deir Ezzor, and had recently finished an interview with a Free Syrian Army commander when she was arrested. She has not been heard from since.
Read more: Reporters Without Borders "Media Workers Under Constant Threat of Arrest, Torture and Death" http://en.rsf.org/syria-media-workers-under-constant-06-11-2012,43642.html
"This recent string of arrests is a troubling development pointing to the specific targeting of women by the Assad regime for simply exercising their rights to peacefully protest, or in Al-Maddad's case, practicing her craft as a journalist," said SEO Board Member Sawsan Jabri. "The Assad regime is notorious for their violence against women, and we fear that these women could be subject to torture, rape, or death in prison. We demand their immediate and unconditional release and hold the Assad regime responsible for any harm that befalls them," said Jabri.