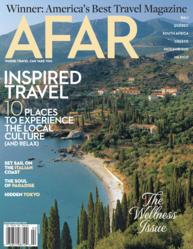 "We deeply believe in the transformative power of travel."
– Greg Sullivan, Co-founder, AFAR Media
San Francisco, CA (PRWEB) December 04, 2012
Building on the momentum of two transformative events in Cairo and Johannesburg, AFAR Media has announced plans for the third event in its immersive travel series AFAR Experiences, taking place in Sydney, Australia May 6-9, 2013.
Early registration is available at a discount until December 15, 2012.
In Sydney, as in Cairo and Johannesburg, a select group of travelers will join AFAR editors and senior staff for a four-day experience that will include engaging talks and presentations from some of Australia's most respected historians, indigenous leaders, designers and business icons. Additionally, a series of small and varied breakout activities will give attendees special access to the private spaces and studios of local artists, chefs, writers, filmmakers, and entrepreneurs.
Evenings will be filled with cocktail receptions, dinners with locals, and late night festivities. Tourism Australia is partnering with AFAR Media to make this once-in-a-lifetime event possible.
"We deeply believe in the transformative power of travel," says AFAR co-founder Greg Sullivan. "Each time we've offered an AFAR Experience, travelers who have joined us have unanimously celebrated what an extraordinary and unforgettable four days we've had together – getting beneath the surface of a place and connecting with people they would never have had access to in such a brief period of time. That's been tremendously gratifying and it only inspires us to keep offering these events all over the world."
For this upcoming event, AFAR has already lined up three influential Sydneysiders, collaborating with them to curate some of the singular activities that will be part of the overall program:

Elizabeth Farrelly – outspoken architecture critic and provocative opinion columnist at
The Sydney Morning Herald
Dare Jennings – a successful entrepreneur who has amassed a cult following through his
custom motorcycle brand, Deus Ex Machina.
Wendy Whiteley – the 'grand dame' of the Sydney art scene, and an instrumental figure in
managing the stunning artwork collection of her former husband, renowned Australian artist
Brett Whiteley.
Watch for more news about Experiences Australia in the weeks ahead.
ABOUT AFAR MEDIA
AFAR is the multi-platform travel brand that inspires and guides those who travel the world to connect with its people, experience their cultures, and understand their perspectives. Headquartered in San Francisco, with an office in New York City, the company launched in 2009. Its platforms include the award-winning AFAR magazine, AFAR.com, the AFAR mobile App, the non profit foundation Learning AFAR; and immersive travel series AFAR Experiences.
ABOUT TOURISM AUSTRALIA
Tourism Australia is the Australian Government agency responsible for promoting Australia to the world as a destination for business and leisure travel. The National Tourism Organisation's purpose is to increase the economic benefits to Australia of tourism, supporting the industry's Tourism 2020 strategy, which aims to grow the overnight annual expenditure generated by tourism to as much as $140 billion by 2020.The organisation is active in around 30 key markets, including Australia, where it aims to grow demand for the destination's tourism experiences by promoting the unique attributes which will entice people to visit.Tourism Australia's activities include advertising, public relations and media programs, trade shows and programs for the tourism industry, consumer promotions, online communications and consumer research. For more information visit http://www.tourism.australia.com.