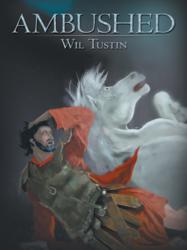 We are all ambushed by life at some point.
Collierville, Tenn. (PRWEB) December 05, 2012
The Apostle Paul saved Wil Tustin's life. Tustin had been teaching others about Paul's journey for years but when he was struggling with a life threatening illness, he found a purpose by creating a voice for Paul in his new book Ambushed.
Ambushed is the story of the Apostle Paul's life from his early childhood, through his darkest times and how he was able to change his fate through perseverance and faith. The story begins with 10-year-old Saul, when bandits ambush him and his father. The first person narrative continues through Paul's life, from being the persecutor to becoming the persecuted.
"When I was ambushed by a life threatening illness, I struggled with a deep depression as a side effect of the medication I was taking," says Tustin. "I found new purpose in my research and writing of this book. I wanted to devote my limited energy to studying someone's life who persevered and overcame their daily struggles."
While Tustin has read and appreciated previous books written on Paul's life, Ambushed is original in its first person approach. Tustin wanted to make Paul's life and lessons more accessible to both the devout and secular alike, giving readers a chance to metaphorically walk beside Paul as he faces tremendous challenges and how he overcomes them.
"We are all ambushed by life at some point," Tustin notes. "I hope that through sharing Paul's ultimate triumph over his challenges, others will see hope for themselves."
For more information, please visit http://www.wiltustin.net/.
Ambushed
By Wil Tustin
ISBN: 9781477263013
Paperback 6x9, retail price: $19.99 USD
Hardback 6x9, retail price: $28.99
ebook retail price: $3.99
Available at: http://www.amazon.com and http://www.barnesandnoble.com
About the author
Wil Tustin received his BA at Robert Morris University and his MA from West Virginia University. He is an economist and a former professor of economics and psychology at both the State University of New York and the State University of Tennessee. Tustin is currently a Senior Vice President at an S&P 500 company. Ambushed is his first novel and is a culmination of over 30 years of research and teaching. Tustin currently resides in Tennessee with his wife and two children.
# # #