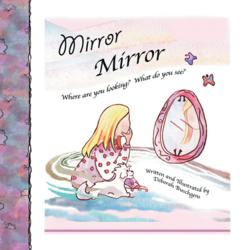 Middle East (PRWEB) December 05, 2012
In the midst of her struggle with pain and anxiety, God spoke to Deborah Buschgens with the words, "You are looking in the world's mirror to see who you are." Those words proved to be the pivot point in Buschgens physical healing and spiritual journey and brought her to the realization – God had a plan for her life.
Two years after the divine visions and conversations began, God inspired Buschgens to write her new book, Mirror Mirror. This prophetic poem retells her holy encounters by presenting His message in a colorful and easy to read rhyme. Using her own beautiful illustrations, Buschgens disseminates God's message of purpose and identity to those seeking the kingdom of God.
"Mirror Mirror is a simple and enlightening go-to book for children, teens and adults," says Buschgens. "This book encourages people to turn and see the beautiful reflection of who they are in God's mirror, instead of the deception found in the world."
This Canadian expatriate living in the Middle East and Australia, shares her excellent ministry tool that awakens and reminds the reader of the unforeseen powers of darkness and light. The painted pages of this poem call the world to ultimately turn towards God's light and embrace the excellent plan and purpose He has for their lives.
Mirror Mirror
By Deborah Buschgens
ISBN: 978-1-4497-3570-8-51395
Pages: 40
Price $14.95
Available at http://www.westbowpress.com, http://www.amazon.com, http://www.barnesandnoble.com
About the author
Deborah Buschgens received her Bachelor of Education through the University of Calgary and art training through the Alberta College of Art. She has lived abroad for the past 18 years. Buschgens is very interested in how the Lord speaks prophetically through dreams and visions and uses her own such instances as inspiration for this story and her ministry.
## #