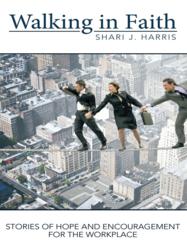 MINNEAPOLIS, Minn. (PRWEB) December 05, 2012
In a 2012 Harris Interactive poll, three out of four Americans said they are stressed while at work, which has left many workers searching for answers.
Walking in Faith is a story of God's grace and faithfulness in the workplace, told through the challenges of one Christian woman's struggles, offering solutions to navigate the stressful workplace environment many people deal with every day. This real and authentic journey from author Shari Harris edifies her past trial and error while learning to put her faith in God.
Through testimony and Scripture, Harris illustrates God's way of using the workplace as a tool to mold her into a woman of strong faith, and a leader in the workplace.
"Most faith in the workplace books read like a how-to book," says Harris. "My book shares personal stories that show how to take faith to work. It really isn't like any other book..."
With 35 years of experience in the work world, Harris' testimony is a powerful example of how taking your faith into the workplace can and will make a difference. Her intense passion to bring God to work with her and to encourage others to do the same is fueled by a personal life- changing experience of a coworker demonstrating faith in the workplace years ago. The reader will be able to relate to her experiences of job loss and overwhelming work incidents. These narratives will grip your heart and compel you to think differently about bringing your whole self to work. Currently working in human resources for a Fortune 500 company, where she serves on the board of the Christian employee group, Harris proves to readers that bringing Christ to the work desk is possible.
Throughout the collection of stories, Harris shows God's faithfulness in chapters on prayer, faith, relationships, forgiveness, hope, compassion and trust, to show you are never truly alone with God.
An inspiring message of passion and hope, Walking in Faith expresses the importance of bringing God into every aspect of your life – not just on Sunday – while also encouraging readers.
Special note: Harris's mother served as inspiration and encouragement in writing this book. She passed away a few months before the publishing of the book from ALS (Lou Gehrig's Disease), A percentage from each book sale will go to ALSTDI for research.
Walking in Faith
By Shari Harris
ISBN: 978-1-4497-1410-9 (sc), 978-1-4497-1412-3 (hc), 978-1-4497-1411-6 (e)
Pages: 115
Price $11.95
Available at http://www.westbowpress.com
About the author
Shari Harris graduated from Northwestern College with a B.S. in Business Management and a minor in biblical theology. In addition to working for a global human resources team at a Fortune 500 company, Harris serves as a back-up Chaplin for Marketplace Chaplains, USA. Harris writes for Bridging the Gap and Workplace Influence. Harris currently lives in a Minneapolis suburb with her husband, Bill.
## #