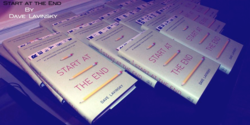 Los Angeles, CA (PRWEB) December 04, 2012
Towards the end of each year, many entrepreneurs set their goals for the upcoming new year. Even if their goals are completely logical there seems to be a trend of failure for many New Year resolutions. Dave Lavinsky, author of Amazon Best Seller, Start At The End Book (http://www.startattheendbook.com) has both an explanation and an answer to this problem.
Lavinsky says that although the New Year inspires entrepreneurs with high hopes, they seem to be blinded by immediate tasks well before the first-quarter even ends. Following the same routine every year and expecting different results will get them nowhere, that's why Lavinsky says they must break from their habits and build a new plan that works for them. Lavinsky, has recently released his book Start At The End and it is specifically aimed towards people who are struggling with this particular problem.
"I wrote Start At The End because I saw way too many business owners spending entirely too much time on daily to dos and tasks. Today, it pains me to know that hundreds of thousands of business owners are pouring tons of energy into their profit-and-loss statements when their time would be best spent focusing on the overall business assets," says Lavinsky.
Due to Lavinsky's expertise in the fields of business planning, start-ups, and capital raising, he suggests focusing on "business assets" like your client base, your products and services, training your employees, and building systems. He says although money is nice, you must have those other assets to create future growth. Fortunately, those who read Start At The End will have the opportunity to learn how to plan for such business assets through the use of examples and real life implementation from Lavinsky who was named "the business planning expert."
"While entrepreneurs and small business owners are among the biggest forces of mankind, they still need to plan in order to invest their time and money where they're going to get the biggest return. That's what I've dedicated the past 15 years of my life to, and with Start At The End, I plan to continue to help more entrepreneurs develop effective business plans," says Lavinsky.