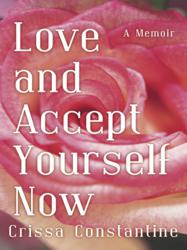 Our species has problems with love and acceptance, and the evidence is everywhere.
Vancouver Island (PRWEB) December 05, 2012
When Crissa Constantine found out she had ovarian cancer, little did she know that it would take a complete self-reinvention and mind renovation to survive.
A lesson in the mind-body connection, Constantine's new book Love and Accept Yourself Now dives into Constantine's past to address the factors that made her sick in the heart. Post- recovery, Constantine penned this memoir to help identify the external factors that kept her from living with full self-acceptance.
This extensive memoir maps out a blueprint to self-love. Readers in a bullying world will appreciate the frankness and honesty with which Constantine devotes to solving the self- esteem problem for herself, and for others.
Constantine mourns the unwarranted viciousness that occurs in the world every single day. "We judge each other far too much, causing needless pain," she says.
The harms of negative baggage can be overwhelming and yet they often go ignored.
"Our species has problems with love and acceptance, and the evidence is everywhere," Constantine says.
Ironically, it was during strenuous chemotherapy treatments that Constantine conquered the daunting task of learning to love herself completely—proving that, sometimes, physical illness can lead to emotional liberation.
As famous cancer surgeon Dr. Bernie Siegel points out, Constantine is a survivor who has abandoned her wounds. It is her level of immense happiness that we should all aspire to.
Love and Accept Yourself Now
By: Crissa Constantine
ISBN: 978-1-4759-4769-4 Paperback: $19.95
Available at http://www.amazon.com
About the author
Crissa Constantine is a concert-level pianist and original composer with several recorded CDs of her piano compositions out. An avid traveler, Constantine enjoys academia and meeting new people. She has previously published two books: the historical account Banished from the Homeland and the novel Broken Doll. She lives on Vancouver Island.
###