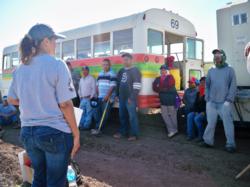 "We estimate that every 17 hours a farmworker dies because of dangerous equipment, pesticide poisoning, and heat stress." Levy Schroeder, Director of Health & Safety Programs at AFOP
Washington, DC (PRWEB) December 03, 2012
Tomorrow, the Association of Farmworker Opportunity Programs' (AFOP) SAFE AmeriCorps members from around the country will be honored for their accomplishments during the end of service and graduation ceremony in Washington D.C. During their year of service, the 16 SAFE AmeriCorps volunteers trained more than 25,000 farmworkers and their families in pesticide safety, heat stress prevention, and other health trainings.
"The pesticide safety and heat stress prevention trainings they provided will have a lasting impact on those farmworkers' lives," says Levy Schroeder, Director of Health & Safety Programs at AFOP. "Farm work is one of the most dangerous industries in America. In fact, we estimate that every 17 hours a farmworker dies because of dangerous equipment, pesticide poisoning, and heat stress."
The ceremony will take place at the Beacon Hotel in Washington, D.C. at 6:00 PM. Kevin Keany, chief of the Environmental Protection Agency (EPA) Worker Safety Program at the Office of Pesticide Programs, will address the volunteers during their graduation ceremony. Ashley Nelson, Program Officer and Environmental Protection Specialist at EPA's Office of Pesticide Program, will also participate in the graduation ceremony and offer words of thanks to the SAFE AmeriCorps volunteers for their contributions.
The SAFE AmeriCorps program was established by AFOP in 1995. In addition to health trainings, SAFE AmeriCorps volunteers also provide farmworkers and their families with direct assistance, including help with transportation, clothing, and food. They also create meaningful and lasting partnerships with agricultural employers, service providers, and faith-based organizations. Since 1995, volunteers have trained over half a million farmworkers in pesticide safety at no cost to agricultural employers or farmworkers.
About AFOP
The Association of Farmworker Opportunity Programs (AFOP) is a national federation of non-profit and public agencies that provides job training and services for America's farmworkers. The Health & Safety Programs division develops trainings and coordinates health promotion activities to protect farmworkers from pesticide poisoning, heat-related illness, and other life-threatening occupational hazards. Our national network of trainers reaches thousands of farmworkers each year in 26 states and Puerto Rico. For additional comment from or interview with from an AFOP expert, please contact Ayrianne Parks at (202) 828-6006 x140 or Parks(at)AFOP(dot)org.