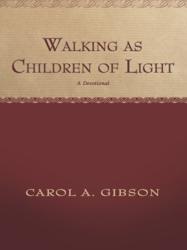 RIVERSIDE, Calif. (PRWEB) December 05, 2012
Author Carol Gibson's life has been filled with astounding input from God. Out to dinner one night with a friend, she hears an inner voice that urges her to return home immediately, and does so just in time to save her dying son.
Another time, a too-realistic dream warns her about a tragic accident that would have taken her college-aged daughter's life. After urgent prayer, the same accident does happen, but the outcome is totally different, in that her daughter isn't killed, but rather walks away without a scratch.
Gibson documents these moments, and many more, in her new book, Walking As Children Of Light. Through both life-altering moments and daily observations, her devotional vibrates with the sure evidence that God strongly desires to have a personal and deep relationship with us. Gibson marries each experience with a corresponding Scriptural reference that brings alive its relevance to our lives today.
The powerful message from Gibson's book is that God wants to intervene and be present in all our lives on a moment-to-moment basis.
As Gibson says, "God wants us to realize that we never need to walk alone through this life, nor were we meant to. God wants to be, as Scripture tells us He is, 'the One who walks alongside us; our Comforter and Helper.'"
Walking as Children of Light
By: Carol A. Gibson
ISBN: 978-1-4497-7058-7 Paperback: $15.59
Available at http://www.amazon.com
About the author
Carol Gibson began her career writing church bulletin devotionals. A graduate of the Christian Writer's Guild Apprentice Program, Gibson has work published in Chicken Soup for the Soul and Parables for Today, as well as Downey Christian School Project Reading textbooks. A retired R.N., Gibson lives in Southern California with her husband, John and their comical English bulldog, Winston. Together she and John have five children and eleven grandchildren.
###