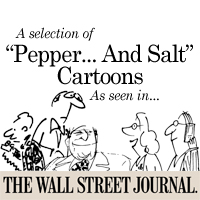 We're really jazzed to be a part of this introduction of the Wall Street Journal Cartoon Collection to the art world
(PRWEB) December 04, 2012
Cartoon Features Syndicate, CartoonLink and Posters2Prints have announced the launch of a new line of fine art gicleé prints on stretched canvas and archival paper, based on the popular "Pepper… And Salt" cartoons that continue to appear daily in The Wall Street Journal since the mid 1950s. The release comes just in time for holiday shopping and points to a broader effort to introduce single-panel gag cartoons as a new collectible art form.
"We are pleased to offer this historic collection of cartoons from The Wall Street Journal," says Cartoon Features Syndicate founder and Editor Charles Preston, adding, "we think it's time this exciting and dynamic art form found its way onto the walls of art collectors all over the world." CartoonLink President Stu Heinecke echoes the point. "Editorial readership surveys have long shown cartoons are the best read and remembered part of magazines and newspapers," he explains, "so they have more impact than just about anything ever printed." The pair have teamed up in an effort to make single-panel gag cartooning as popular among art collectors as it is among readers. The installation of the collection on Posters2Prints is their first such effort.
"We're really jazzed to be a part of this introduction of the Wall Street Journal Cartoon Collection to the art world," says Posters2Prints CEO Bob Leonard. Other forms of cartooning have already become highly collectible, with prices for animation cells and comic book art soaring in recent years, but single-panel gag cartooning has been conspicuously absent from the scene. "The first time I saw one of the cartoons produced as a stretched canvas print, I was hooked," enthuses Leonard, "it's amazing how good they look as a real, true art piece and I have a feeling the Pepper… and Salt cartoons are going to be a smash hit, particularly as office decor and gift items." The key, Leonard explains, is finding a cartoon that expresses something you feel strongly about. Heinecke, who is also one of The Wall Street Journal cartoonists and author of Drawing Attention, a how-to book that explains the considerable utility of cartoons in various marketing and business missions, agrees. "Humor is about truth, and cartoons are among the most powerful expressions of the true essence of human experiences I've ever seen," he explains, "which is why we believe single-panel gag cartooning will connect with art collectors in a uniquely powerful way."
The Wall Street Journal Cartoon Collection is believed to be the largest collection of business cartoons in the world, with more than 10,000 works by a pantheon of famous cartoonists through the years, including Joseph Mirachi, Chon Day, Ed Arno, M. Twohy, George Jartos, Leo Cullum, Mark Litzler, Chris Wildt, Roy Delgado, Dave Carpenter, Herbert Goldberg, Doris Matthews, Harley Schwadron, John Caldwell, Aaron Bacall and Teresa Burns Parkhurst. The launch includes over 200 works covering a variety of subjects, each are available in sizes ranging from 12" x 12" to 40" x 40" and stretched canvas is available in sizes up to 51" x 51".
Holiday shoppers looking to give the gift of laughter this year can visit The Wall Street Journal Cartoon Collection on Posters2Prints.com by clicking "Cartoon Art" in the Categories nav section of the site. Shoppers will receive substantial discounts plus free shipping on orders over $99.00 within the contiguous United States, but will need to place their orders no later than December 12th to guarantee their art is received before Christmas.
Contacts:
Stu Heinecke
CartoonLink, Inc.
206-286-8668
stuheinecke(at)gmail(dot)com
Bob Leonard
Posters2Prints
bleonard(at)posters2prints(dot)com
317-252-0358
About Cartoon Features Syndicate:
Cartoon Features Syndicate has supplied The Wall Street Journal with its beloved "Pepper… And Salt" cartoons for more than six decades, as well as crossword puzzles and other features to The Journal. Founded by Charles Preston, the syndicate has also edited more than 30 books featuring Pepper… and Salt cartoons, published by Simon & Schuster, Doubleday, Prentice-Hall and other prominent publishers.
About CartoonLink:
CartoonLink, Inc. (http://www.cartoonlink.com) is a marketing service that uses cartoons to generate often record-breaking response for many of the world's biggest direct marketers, as well as supercharged results for small and medium sized businesses. Founder Stu Heinecke is a DMA Hall of Fame-nominated marketer who successfully defied David Ogilvy's "Never use humor" rule and a widely published cartoonist, including in The Wall Street Journal. He is also author of Drawing Attention (sold on Amazon (http://amzn.to/k3xP0a), iBooks and BN.com), a book that explains how to employ the magic of cartoons in various missions, from advertising, marketing and sales promotion to social media, job search and more. Heinecke has used cartoons to power countless record-breaking campaigns and to reach Presidents, Prime Ministers, celebrities, CEOs and countless top decision makers.
About Posters2Prints: Posters2Prints.com (http://www.posters2prints.com/) is a leading online retailer of wall art. The company's mission is to delight its customers with exceptional custom framed art at the most affordable price. They do this by:
1.    Operating a state-of-the-art website that makes shopping for wall art fast and fun; 2.    Maintaining a hand selected catalog of the most desirable artwork;
3.    Offering a variety of wall art products to suit all tastes and budgets;
4.    Meticulously inspecting all custom framed artwork before it ships; and
5.    Providing unmatched, design-driven consultation and customer service.
The company's management team has more than 50 years of combined business experience in art consultation, publishing, licensing, e-tailing and distribution. Posters2Prints is headquartered in the American Heartland: Westfield, Indiana, just north of Indianapolis.