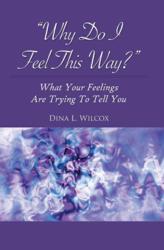 New York, NY (PRWEB) December 05, 2012
Feelings are responses generated by human brains to help them survive. Since the beginning of time, human brains have been evolving, fine-tuning abilities to augment human wellbeing. Yet, sometimes these "survival mode" responses can prevent us from living deliberately. "Why Do I Feel This Way? What Your Feelings Are Trying To Tell You" (Mill City Press) explores how the mind creates feelings and explains how readers can get messages and live in harmony with their feelings for a more fulfilling life. "Why Do I Feel This Way?" will be available February 26, 2013 at all major retailers.
A launch party for "Why Do I Feel This Way?" Will be held from 6 p.m.–9 p.m., Dec. 5, at Red Roots Gallery, 25 Central Park West in New York City. Guests will enjoy great food, good conversation, live entertainment, and an opportunity to purchase the book.
About the Book
After her husband lost his three-year battle with HIV, author Dina Wilcox embarked on a ten-year journey of self-discovery. Her goal was to understand her own feelings in order to harness her inner power and live meaningfully. "Why Do I Feel This Way?" is the result of research and experimentation she conducted in order to learn about her own brain, and to use what she learned about how our feelings exist to help people thrive.
"Why Do I Feel This Way?" addresses topics such as memories, fear, love, consciousness, and reality. Our brains give us all the information we need in order to act in our own best interests. Armed with the power they supply in a variety of fun and interesting ways, Wilcox posits that people can even change reality. A compelling cross between science and memoir, "Why Do I Feel This Way?" is for everyone who is curious about how they can use their feelings to live a life they can love.
For more information or to purchase the book, go to http://www.RaisingHealthyVoices.com.
About the Author
Dina L. Wilcox holds a law degree from Northeastern University. She has worked as a lawyer, educator, writer, editor, and consultant and public speaker. "Why Do I Feel This Way?" is her first book, and arose, in part, as a result of her many years as an HIV prevention educator. She lives in New York City.