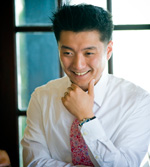 Collegeville, PA (PRWEB) December 04, 2012
The Lanap & Implant Center of Pennsylvania welcomes Woojae Chong, DMD, and Angie Yi, Director of Patient Relations, to its Pennsylvania dental practices. Chong and Yi's combined experience aligns with the holistic approach taken by lead dentist, Dr. David DiGiallorenzo.
"I am thrilled to have Dr. Chong and Angie Yi on board," states DiGiallorenzo. "The experience they bring to the table will only help further the patient-centered and holistic approach taken by our dental practice."
Lanap & Implant Center of Pennsylvania promotes full-body healing for periodontal and implant therapy with a full dental spa setting that provides reflexology, reiki, massage, nutrition, aromatherapy, color therapy and sedation.
Sought after by patients and dentists from around the world, Lanap & Implant Center of Pennsylvania pilots new products and conducts clinical evaluations for some of the world's leading biomedical companies due to its success with simple, single-visit, painless dental implants and laser and reconstructive periodontal care.
About Woojae Chong, DDS
Dr. Chong lived in Portland, Oregon before moving to Pennsylvania. He has an undergraduate degree in biochemistry and biophysics, his DMD degree from Temple University, and a master's in periodontology and implantology, also from Temple University. He has over four years of experience in periodontics and dental implants, and he's currently teaching in the Advanced Education in General Dentistry (AEGD) program at Temple University School of Dentistry. He's a diplomat of the Amercian Academy of Periodontology and the International Congress of Oral Implantologists.
About Angie Yi, Director of Patient Relations
Yi brings over 14 years of experience in office management and billing management to Dr. DiGiallorenzo's Collegeville office. She had extensive experience in working closely with patients at three Philadelphia hospitals, where she scheduled their initial consults and surgeries and advised them about their insurance coverage and financial responsibilities. A graduate of Moravian College, Angie is thrilled to join Dr. DiGiallorenzo's team and add her patient care-centric philosophy to such an innovative, holistic practice that puts patient comfort first.
Press Contact:
Dr. David DiGiallorenzo
dmdseminars(at)aol(dot)com