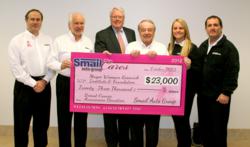 We chose the beneficiaries based on a combination of organizations that encompass a wide spectrum of breast cancer needs. From research and education to mammograms and treatment, we feel that these groups are providing the services that are needed most.
Greensburg, PA (PRWEB) December 04, 2012
Smail Auto Group is proud to announce a second successful Pink Ribbon "Smail Auto Group Cares" campaign. During October, Smail Auto Group displayed bright pink ribbons across all of their buildings to raise awareness in support of National Breast Cancer Awareness Month. Smail Auto Group not only made a visual statement, but stood behind their message by donating $100 for every new and used vehicle sold at their dealerships throughout the month of October.
Magee-Womens Research Institute & Foundation; the Westmoreland Frick Hospital Foundation (Excela Square at Norwin); and also Westmoreland Walks, Inc. "Taking Steps Against Breast Cancer" were the beneficiaries of the Smail donation this year.
Kathy Brown and Cheryl McMullen of Westmoreland Walks were thrilled to receive their $7,000 check. Each Spring, Westmoreland Walks, Inc. hosts a Serenity Spa Day. Women battling breast cancer are invited to participate in a day of education, relaxation, inspiration and friendship. Smail Auto Group participated in the walk again this year and raised additional funds from this event. The team was led by Lindsey Smail Schneider and included other Smail employees.
A second check for $23,000 was presented to Art Scully III, Vice President, of the Magee-Womens Research Institute and Foundation. Dr. Ronald R. Johnson, Bud Smail's son in law, is a breast cancer surgeon at Magee Womens Hospital and recommended this organization. Magee-Womens Research Institute (MWRI) continues to dedicate its clinical research studies and clinical trials to improving the health care of women and infants.
Excela Health is establishing a full-service, certified breast center at Excela Square at Norwin, inside Norwin Hill Shopping Plaza in North Huntingdon. The breast center will provide quick, coordinated care for patients, with access to a primary care physician if a lump is found. In addition, patients will have access to a radiologist will biopsy the lump on site, state-of-the-art digital mammography, a breast surgeon to discuss and perform treatment, and a reconstructive surgeon, should that be necessary. We know that when a woman discovers a lump, the last thing she wants to do is wait for diagnosis and treatment. "Our Breast Center would certainly be one of the best in the region, with a spa-like atmosphere unlike anything Westmoreland County has ever seen", said Jennifer Miele, Vice President, Excela Health Marketing & Communications. Jennifer, Sherry Gaston, and Carole Blair all were present to accept the $17,000 donation.
Smail Auto Group chose the beneficiaries based on a combination of organizations that encompass a wide spectrum of breast cancer needs within our communities. From research and education to mammography and treatment, they are proud to be a partner in furthering each organizations mission of combating this disease.
Smail Auto Group has been family owned and operated for over 75 years. They are committed to complete customer satisfaction and are honored to be continually ranked high by their valued customers. In addition to supporting breast cancer charities, Smail Auto Group also supports numerous other causes and local charitable organizations.
They proudly represents nine new car franchises – Acura, Honda, Mercedes-Benz, Kia, Ford, Lincoln, Mazda, Cadillac and GMC – five service and parts centers, Smail Collision Center, Smail Auto Glass and the new Smail Auto Car Wash/Detail Center .
All Smail dealerships are conveniently located on Route 30 in Greensburg, PA – just ½ mile east of Westmoreland Mall. Visit http://www.smailauto.com for all of your automotive needs.