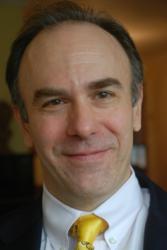 Rob Watson and the LEED specifications will have a profound impact on the built environment for many years to come," says Dr. S.H. Sohmer, BRIT's president and director.
Fort Worth, Texas (PRWEB) December 04, 2012
The Botanical Research Institute of Texas (BRIT) announced today that Robert K. Watson is the recipient of its 2013 International Award of Excellence in Conservation for his ground breaking work and leadership in providing environmental specifications for green technologies for the built environment. Watson will also be honored for his demonstrable, long-term personal commitment to protecting the Earth and its resources. The award dinner will be held on April 11, 2013, at The Worthington Renaissance Fort Worth Hotel in Fort Worth, Texas.
Known as the "Founding Father of LEED," (Leadership in Energy and Environmental Design), Watson was a founding director of the U.S. Green Building Council (USGBC), the organization that manages the LEED standard. Under his direction, LEED became the largest and fastest-growing international standard by which green buildings are measured.
Currently, Watson is Chairman, CEO, and Chief Scientist of the EcoTech International Group (ETI) a green technology consulting firm that helps clients around the world achieve cost-effective high performance green buildings through better design, technology and operations. Watson led the certification of China's first LEED building and ETI provided certification services for China's first Platinum Core and Shell project and TAIPEI 101, the world's tallest Platinum LEED building.
"Rob Watson and the LEED specifications will have a profound impact on the built environment for many years to come," says Dr. S.H. Sohmer, BRIT's president and director. "It is amazing what can be achieved by the thoughts and actions of a single environmentally-minded individual. I am especially proud to note that BRIT's headquarters building was designed to achieve LEED's highest certification – Platinum."
"Commercial buildings account for 50% of the global energy and material resources consumed in their building and operation. As such, they are the most environmentally damaging of all human activities," said Mr. Watson. "Global adoption of LEED's sustainable green building and development practices will reduce emissions of man-made global warming pollutants like carbon dioxide and other greenhouse gases while also honoring the land on which they are built."
"I commend BRIT and its forward thinking leadership for its commitment to environmental research and educational outreach," Watson added.
Created in 1995, the International Award of Excellence in Conservation is presented to honor individuals and organizations that exemplify the ideals expressed in BRIT's mission. Recent honorees include: CNN founder, entrepreneur, and environmentalist, Ted Turner; Brazilian rancher and conservationist John Cain Carter; biologist Edward O. Wilson, Ph.D.; botanist and author Peter H. Raven, Ph.D.; renowned chimpanzee researcher Jane Goodall; and wildflower advocate Mrs. Lyndon Baines (Lady Bird) Johnson.
Rob Watson is the nineteenth recipient of the award.
Regional Awards of Excellence in Sustainability
New for 2013, BRIT has established a sustainable awards program that recognizes area businesses, organizations, and individuals that make conservation a priority in their operations and lives, and in turn make North Texas a better, cleaner place to live and work.
The recipients of these three new awards, who will be honored during BRIT's 2013 International Award of Excellence in Conservation dinner, are:
Regional Award of Excellence in Sustainability for a Business
To be presented to BNSF Railway for its proactive commitment in minimizing the impact of long haul rail transportation and in promoting green best practices to employees. Of special note:

BNSF's use of new wide-span electric cranes at its Memphis Intermodal Facility, Seattle International Gateway Intermodal Facility, and Kansas City Intermodal Facility (opening in 2013), which produce zero emissions and generate electricity to aid in recharging internal batteries. BNSF was the first U.S. railroad to use these systems.
Its substantial investment in the acquisition of 2,500 fuel efficient locomotives making BNSF's one of the newest and most fuel-efficient fleets of road locomotives. (A BNSF train can move one ton of freight, on average, 500 miles on a single gallon of diesel fuel.)
Acquisition of 84 ultra-low emission switch locomotives. These locomotives reduce nitrogen oxide and particulate by 80 to 90 percent and improve fuel efficiency by 25 percent.
By hauling products through its rail system, it has reduced its customer's carbon footprint by more than 30 million metric tons of CO2. BNSF has also helped customers focus on CO2 reductions by documenting shipments and emissions avoided by shipping by rail.
BNSF's ongoing environmental remediation programs to protect water and wetlands, prevent chemical spills, and recycling of material and substances, as well as employee engagement through programs such as "Green Teams" and Fuel MVP programs.
Regional Award of Excellence in Sustainability Education
To be presented to The Rainwater Charitable Foundation (RCF) for its vision and support of innovative experiential education programs for teachers and students that focus on getting children outdoors to learn in order to improve their health and academic success. These programs are helping grow a new generation of environmentally aware citizens and leaders.
It is estimated that over the last 15 years, programs developed by RCF-funded organizations working in conjunction with Fort Worth and Dallas Independent School Districts have touched over 200,000 North Texas children.
Regional Award of Excellence in Sustainability for an Individual
To be presented to Mrs. Adelaide Leavens, past executive director for Streams and Valleys. Inc. Under her 14-year leadership, the organization worked with community and government partners to expand the Trinity Trails system in Fort Worth, formalized the Kayak Program, created partnerships for Project Bluebird and Project Daffodil, and managed many other environmental programs.
"BRIT is pleased to honor the environmental achievements of BNSF Railway, The Rainwater Foundation, and Mrs. Adelaide Leavens as inaugural recipients of BRIT's Regional Awards of Excellence in Sustainability," says Dr. Sohmer. "Their personal and corporate commitments to the environment exemplify the ideals expressed in BRIT's mission of conservation, sustainability, and wide stewardship of the land."