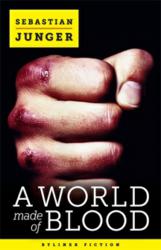 A New Byliner Original by International Bestselling Author Sebastian Junger
San Francisco, CA (PRWEB) December 04, 2012
Sebastian Junger, arguably America's greatest chronicler of life lived at its extremes and the bestselling author of The Perfect Storm, War, and A Death in Belmont publishes a rare work of short fiction today with digital publisher Byliner, A World Made of Blood ($1.99).
An intimate, brutal account of a young American journalist trying to survive his latest assignment, this powerful short story, at once modern and timeless, combines the best elements of classic war literature and psychological horror. Junger's unforgettable journey into the heart of darkness confronts man's unrelenting savagery and his unpredictable capacity for cowardice—and courage.
Daniel wanted to escape the Midwest and its small-town newspapers, but he didn't sign up for this: a war-torn West African city strung in barbed wire, its embassies abandoned, child soldiers brandishing guns in the streets. Andre, the veteran photographer Daniel is paired with, is conversant in all of it—the jungle, the locals, and especially the attendant risks of covering war—and pushes them to go deeper into the conflict, to get to the front lines. Yet in a battle like this, there are no reliable lines of safety. Western rules do not apply, and atrocity is color-blind. Just when Daniel thinks he's convinced his fearless partner to retreat, they arrive at what could be the end of the road for both of them.
About the Author: Sebastian Junger is the author of the bestsellers War, The Perfect Storm, Fire, and A Death in Belmont. With the late Tim Hetherington, he shot and directed Restrepo, which won the 2010 Grand Jury Prize for Documentary at the Sundance Film Festival and was nominated for a 2010 Academy Award for Best Documentary. His film about the life and death of Hetherington will premiere on HBO in 2013. A contributing editor to Vanity Fair, he has won a National Magazine Award and the SAIS-Novartis Prize.
About Byliner: Byliner commissions and publishes original stories written to be read in two hours or less. These "e-short" stories are available on phone, tablet, or computer as part of the Byliner subscription service, and can also be purchased individually through digital bookstores such as Amazon, Apple's iBookstore, Barnes & Noble, Kobo, and Google Play. Bestselling Byliner titles include Amy Tan's Rules for Virgins, Margaret Atwood's Positron, Jon Krakauer's Three Cups of Deceit, Ann Patchett's The Getaway Car, Nick Hornby's Everyone's Reading Bastard, and Buzz Bissinger's After Friday Night Lights. On Byliner.com, readers get personalized access to an unmatched library of more than 20,000 fiction and nonfiction stories by the world's best writers, allowing them to easily find, read, save, and share new and classic stories by their favorite authors.
A World Made of Blood is available for $1.99 as a Kindle Single at Amazon, a Quick Read at Apple's iBookstore, a Nook Snap at BarnesAndNoble.com, a Short Read at Kobo, and at Google Play. For an Advance Reading Copy or to schedule an interview with Sebastian Junger, please contact Clare Hertel at clare(at)byliner(dot)com; 505-474-6783.