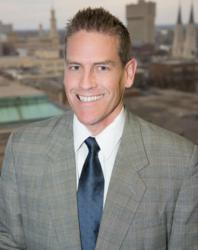 Matt's credentials speak for themselves.
Indianapolis, Indiana (PRWEB) December 03, 2012
Sevenish Law, Indiana's leading personal injury firm, has bolstered its ranks. The firm announced Monday that it hired Matthew Forsythe, a young attorney who has rapidly built a reputation in the legal community.
The firm's founder, Randy Sevenish, is known for his tough stance toward big business and an unwavering dedication to his clients. A former SWAT commander, Sevenish has built his law firm around helping victims of car and motorcycle accidents, drunk driving and workplace injuries. He says he chose Forsythe because the younger attorney shares the same ideals.
"Matt's credentials speak for themselves," said Sevenish. "There's no question about his qualifications. To me, to all of us here, what we wanted was a lawyer who shares our values. We make a point of going beyond what the client expects from us, and giving them personal attention every step of the way. Matt embodies that kind of dedication."
Forsythe has been practicing law in Indiana for over ten years, concentrating on cases involving wrongful death, personal injury and premises liability. His commitment to his clients as well as his strong record of successful cases made him stand out from other candidates, according to Sevenish.
"We're here to win," Sevenish said. "The people who come to us are often at their wits' end... Sometimes they don't know what their legal rights are. They need someone who will truly listen to them and then go to bat for them. That's why it such a big position to fill."
Forsythe represents the latest step in Sevenish Law's expansion, after adding a new case manager in October. Forsythe is the first attorney the firm has hired.
About Randy Sevenish:
Randy Sevenish began fighting for justice in 1973 in the Marion County Sheriff's Department. He helped found the county SWAT team before moving on to law practice in 1985. Since then, Sevenish has been an indefatiguable advocate for his clients, helping them receive compensation for injuries and losses against difficult odds. Sevenish never bills a client unless successful on their behalf. Sevenish Law can be reached at 800-278-9200.
Sevenish Law
251 E. Ohio Street Suite 880
Indianapolis, IN 46204