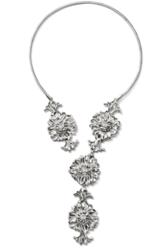 Luxury jewelry with gleaming silver plus sparkling stones makes a thrilling gift. Gasps guaranteed!
Baltimore, MD (PRWEB) December 05, 2012
For the 2012 best holiday gift, American Estate Jewelry has launched new sparkling works from the renowned silver master Michael Galmer who has incorporated exciting new elements to his collection of high-end cuff bracelets, earrings, necklaces and rings. Gentlemen, go for the gasp!
The Sparkling Holiday Collection features glittering natural stones such as faceted clear topaz and natural crystal quartz, marking a step forward in luxury silver jewelry. "It's an icy, glittering effect of white precious metal and clear white stones that means stand-out chic. This holiday gift means a guaranteed gasp from the woman in your life," notes American Estate Jewelry founder Carolyn O'Keefe.
The Baltimore-based company partners with New York-based Galmer to offer jewelry blending the rare repousse' technique with rich design and boldly scaled-pieces. Its riveting All-American sterling silver cuffs, handcrafted in the USA, are the bedrock of the company's offerings. An American Estate silver cuff, nestled within its complimentary silk-lined luxury gift box, is a stand-out holiday gift.
During the summer months, the Bamboo Collection featuring natural turquoise was a strong favorite particularly in coastal locales such as LA, Nantucket and Miami. For the perfect holiday gift, Galmer experimented with his Bamboo bracelet, adding glamorous large faceted stones of natural crystal quartz in his unusual, linked silver cuff. The bracelet was an instant hit among women who love diamonds but wanted scale.
"The Bamboo Bracelet with Natural Crystal Quartz offers a knock-out look, and women love that it is all-natural," notes O'Keefe. After all, the company's guiding premise is enduring value which means "real" is important. For retention of heirloom value, no CZs, crystals, artificial or lab-created stones are used. The best holiday gift stands the test of time.
Galmer proceeded to create an entire Bamboo Collection with Natural Crystal Quartz, including a ring, necklace, pendant and earrings as well as the original bracelet. With fashion's focus on 24-7 sequins and wet-look shine, Galmer's idea was perfectly timed. But he didn't stop there.
Next, his spectacularly detailed Chrysanthemum Collection got the high sparkle treatment. Small, bright faceted clear topaz stones now highlight his famous wrap necklace, The Sparkling Chrysanthemum Wrap Necklace, and other pieces including a cuff, earrings, pendant and brooch.
American Estate's best-selling slim Chrysanthemum cuffs now include versions with red carnelian cabochons, cabochon sapphires and, for the best holiday gift for 2012, sparkling clear topaz. With extraordinary sculpting, hand-engraving and 24K gold interior lining, The Sparkling Slim Chrysanthemum Cuff priced at $625 is a luxury gift that suits women of all wrist sizes and tastes.
As a celebration of The Holiday Sparkle Collection's launch week, through December 10th, the company will provide a 10% discount to the first 25 visitors to its web site who purchase any piece of jewelry from The Bamboo Collection with Natural Crystal Quartz or The Sparkling Chrysanthemum Collection. To receive the special limited discount, enter Sparkle10 within the promo code box at checkout.
American Estate Jewelry is a company committed to presenting new American works of jewelry and fashion with enduring worth. Currently, the company offers its pieces through its web site and through selected fine jewelry retailers including Tiny Jewel Box, DC, Works Gallery, New York City; Summerwind Jewelers, Portsmouth NH, Radcliffe Jewelers, Baltimore, and DeScenza Diamonds in Boston and Hingham MA.