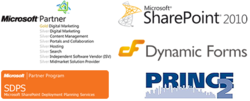 What started as a one day engagement has grown into a long term relationship
Warrington, Cheshire (PRWEB UK) 5 December 2012
igroup ltd, a growing UK-based SharePoint provider, has provided consultancy and a report for PMI Health Group. The work focused the document management software options available to PMI.
PMI Health is the UK's largest independently owned provider of employee healthcare and risk management services and is the UK's largest independently owned health insurance broker. PMI has grown consistently since its inception 25 years ago.
igroup was hired to consult on a document management system that would integrate seamlessly with existing software and would be simple to deploy. igroup provided an on-site review and delivered a report on the options available to PMI within 72 hours.
Following the initial work, PMI asked igroup to provide a training day for SharePoint and has pre-booked 5 days of consultancy and support services.
Senior SharePoint specialist at igroup Garry Forsyth said, "What started as a one day engagement has grown into a long term relationship."
To find out more about igroup's SharePoint services visit: http://www.igroupltd.co.uk/
***
About igroup
igroup is a UK-based technology company that provides SharePoint solutions. Formed in 2005, the company has at least doubled sales revenue every year via organic growth since being formed.
The company is ISO 9001 certified and is a Microsoft Gold Certified Partner with its specialist competency in SharePoint. It offers a range of SharePoint services including development, hosting, consultancy, support and training. igroup's Managing Director, Steve Rastall has been named in Insider Magazine's 'Top 25 Up & Coming Entrepreneurs' and the organisation has also won a HOT 100 Fastest Growing Companies award.
igroup's clients have included Herefordshire County Council, South London and Maudsley NHS Foundation Trust, Carmarthenshire Council, Manheim Auctions, Bibby Distribution, East Essex Council, Perivan, British Antarctic Survey, GVA, EON, Spice PLC, Health & Safety Labs, Davies Turner & Co, Greater Manchester Council, Imperial Tobacco, Tube Lines, Toyota and the Peabody Trust.