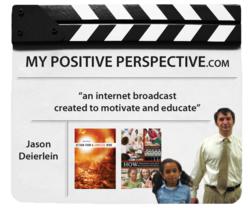 It was just time for Nick to learn about my recovery process.
charleston, SC (PRWEB) December 04, 2012
December 1, 2012, My Positive Perspective wanted to show their support for Nick Collins by providing some financial assistance in the recovery process of the coma survivor. Upon deciding to become a sponsor for the event, My Positive Perspective founder Jason Deierlein said, "The fact that I was once upon a time in a very similar situation as him makes my desire for me and my company to help very important." "I remember all the support me and my family were fortunate enough to receive and remembering how important that was throughout the duration of my recovery is something I really enjoy replicating."
Deierlein was able to visit with the parents of Nick Collins and listened to updates on the coma survivor's condition. According to the mother of Nick Collins, his time away from home is starting to get to him. Mrs. Collins said, "At this point he is ready to get in his wheelchair and come back home." This is something that Deierlein can relate to stating, "I hadn't been home in a little over four months, and it gets to you. A feeling of insecurity sets in when you have to go that long without being home. It will certainly give him an appreciation like nothing else will."
During the conversation, Deierlein gave a copy of his published book to the family. The book details the struggles and challenges posed to Deierlein after his car accident. Deierlein commented on his book saying, "It was just time for Nick to learn everything about what all took place during my recovery." Deierlein advises Collins to stay patient. Saying, "That is one of the hardest things to do, but the recovery process cannot be rushed. You have to stay persistent at recovering and try not to let the mental drain of missing home at bay."
My Positive Perspective is an internet talk show created for the purposes of overcoming adversity. We educate and inspire in many different ways and talk about different types of obstacles, but the ultimate goal of this business is to spread positively and strengthen wherever there is a weakness or tragedy to overcome. I myself survived a car accident, coma, and painful rehabilitation. I consider myself lucky to be here and providing the public with this free service. This company is kind of my gift to myself for achieving. The one thing you never lose after surviving a tragedy is desire to help.