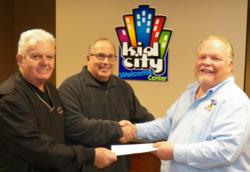 Feeding families during the holiday season has always been a priority for our company
-Frank Farmer, President of American Metal Roofs
Grand Blanc, Michigan (PRWEB) December 05, 2012
Every year many prideful families across Michigan go hungry during the holidays. These are families who have fallen on tough times, are without jobs or are under employed.
Flint Based American Metal Roofs, with offices in Flint and Charlotte Michigan, has joined forces with the local charities to feed those in need this holiday season. "Feeding families during the holiday season has always been a priority for our company " says Frank Farmer, President of American Metal Roofs.
A donation to purchase 200 turkeys was presented to Bob Coe of the Flushing Community Church of the Nazarene.
About American Metal Roofs:
American Metal Roofs provide residential and commercial metal roofing products and services throughout Michigan. Customers receive stunning, permanent, energy-saving metal roofs, professionally installed.