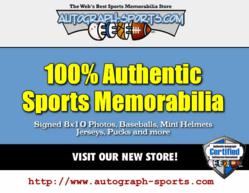 We are here to help collectors like ourselves obtain autographs of their favorite players at an affordable price.
Union, NJ (PRWEB) December 11, 2012
Created in 2004, Autograph-Sports.com has been one of the leading destinations of Autographed Memorabilia for sports fans, collectors and memorabilia dealers on the Internet. The site offers Sports Autographs of thousands of players from all Baseball, Football, Basketball, and Hockey teams as well as most major College teams.
On Nov 21, Autograph-Cards LLC, the parent company of Autograph-Sports.com launched an upgraded version of its website, bringing a richer and more customer- friendly shopping experience to their sports-minded customers.
The company's newly redesigned website was built to accentuate the deep roots of the company while sharing the companys' passion for sports and sports memorabilia.
Evan Kanter, President of Autograph-Cards, LLC says, "We are sports fans first and foremost. Our goal has always been to provide a one-stop source for Sports Memorabilia regardless of the team you root for. We are here to help collectors like ourselves obtain autographs of their favorite players at an affordable price."
Autograph-Sports features on its website, authentic sports memorabilia from over 10,000 professional players and college athletes. The store offers a wide choice of items ranging from autographed sports cards and photos to equipment, such as signed baseballs, bats, helmets, and jerseys. In addition to their traditional list of items, they have now added Framed Unsigned Photos and a service for Custom Framing of Signed Photos.
Authenticity is an important consideration for autographed memorabilia collectors. Autograph-Sports.com has a long-standing reputation for supplying High-Quality Authentic Autographed Products. The purchase of an autographed item comes with an Autograph-Sports Certificate of Authenticity, which is a lifetime money-back guarantee on the authenticity of a signed item. Third-party authentication is included on some items when applicable. In addition, they have a 100% Satisfaction Guarantee policy. If you are not satisfied with a purchase for any reason, the item may be returned within 60 days for a full refund.
The new website delivers features such as an account login, a 128-bit SSL Payment Gateway for safe ordering, and improved server technology for higher performance.
With the reintroduced website, Autograph-Sports.com offers sports fans and memorabilia collectors a better customer experience and a constantly expanding product selection. Free shipping is provided for all orders over $200. Also, don't forget to check out the Autograph-Sports website for its schedule of upcoming player signings.
Autograph-Cards LLC, and its parent company Q Webstores Inc, specialize in the operation of large-scale E-commerce websites. On each of the company's websites, they strive to offer a wide selection of quality products, outstanding customer service, a fun and easy-to-use website, and consistent everyday wholesale prices. Besides Sports Memorabilia, the company continues to evolve its product offering and in the past two years, have started selling products in several new categories including toys, sporting goods, and sports fan apparel.
Contact Information:
Jennifer McClaren
Director of Sales & Vendor Relations
Email: jenn@QWebstores.com
Phone: 908-258-7228
Fax: 908-258-7224
###