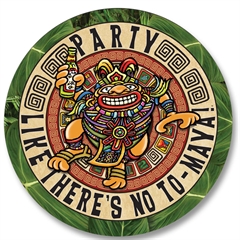 Chicago, IL (PRWEB) December 04, 2012
The year 2012 has been widely discussed in the media over the past several years due to the hype over the date 12/21/12, or in other terms "the end of the world." This particular date marks the end of the Mayan calendar. Over the last few years, as the date hung in our near future, individuals have invented various ways in which the world might actually end. Whether you believe all the hysteria about the world ending on this particular day or not, Windy City Novelties has their customers covered with End of the World Party Supplies and Survival Kits that will provide for both the believers and non-believers. Why not throw a party to welcome the end of the world?
According to a Discovery News article, all the speculation surrounding this infamous date in time originates from an artifact found within an ancient Mayan tomb in Guatemala. The artifact was a Mayan calendar that dated all the way until 12/21/2012 where it stops. Since the Mayans often prophesized about future world events, it has some believing they predicted the world to end on this specific date. From this stemmed countless theories on how the world will actually end, with new ones being created every single day.
Windy City Novelties wants its customers to be prepared for when the world does end; or for everyone to "Party Like There's No To-Maya". Since the 21st of December falls on a Friday, individuals can go out with a bang by hosting a Mayan-themed blow out. Hosts can choose from various End of the World Party Invitation themes to invite guests with. The invitation themes range from a zombie apocalypse to a large meteor striking the earth to a giant volcanic eruption and more. Whatever their end of the world theory may be, hosts and their guests can party with Tiki Cups and Party Like There's No To-Maya paper goods and decorations.
In the event of a zombie apocalypse forming the night of Friday December 21, 2012, Windy City Novelties' camouflage clothing and party supplies are sure to keep customers out of harm's way while the zombies are mindlessly roaming the outdoors in search of human flesh. Camouflage scene setters will set the zombies off track so guests can enjoy their snacks and drinks served in camouflage paper goods.
Should the event that an emergency occurs, Windy City Novelties offer Emergency Survival Kits. The kits range for different types of households with some for single person households and others for multi-person households. The kits are appropriate for a variety of emergency situations such as hurricanes, earthquakes, floods, and more. Most of them contain the typical emergency objects such as medical items and ointments, blankets, gloves and masks, flashlights, emergency light sticks, hygiene products, as well as water and high calorie food bars. Windy City Novelties also provides Infant Survival Kits and Pet Emergency First Aid Kits, to ensure every member of the family is taken care of. In case the power should go out, Safety Light Sticks and Magnetic Base Light Sticks are also available for purchase.
ABOUT WINDY CITY NOVELTIES
Windy City Novelties, a party supply company founded in 1983, is known for their great selection and competitively priced items. They have an A+ rating from the Better Business Bureau and are also a NexTag 5 star Seller. From their website, windycitynovelties.com, they offer fast and friendly shipping along with great customer service. From glow sticks in every color of the rainbow, to party decorations in a variety of themes, and even a vast selection of Halloween costumes at the best prices, Windy City Novelties has over 15,000 products and adds more each week.