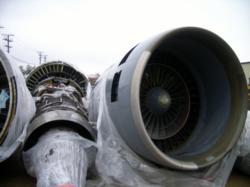 Scottsdale, AZ (PRWEB) December 04, 2012
As part of a U.S. Air Force upgrade project, one hundred original TF-39 engines are being auctioned for their scrap metal components by Government Liquidation, the exclusive sales channel for Department of Defense surplus and scrap assets. The engines, which powered the C-5 Galaxy aircraft for the past 40 years, are being replaced by newer models. Currently located at Ft. Meade, MD, they are now being offered to the public for their scrap materials which include titanium, aluminum, stainless steel, steel and Inconel. The engines will be sold in groups of eight to 12 over the course of 18 months. Starting Friday, December 14, 2012, Government Liquidation will be accepting bids on eight of the engines, totaling over 87,000 pounds of scrap metal, through its online marketplace, http://www.govliquidation.com.
"The sale and scrapping of these once-groundbreaking engines will further contribute to our government partner's sustainability and reutilization goals, joining the over two billion pounds of DoD scrap materials that have been sold on our website and subsequently kept out of a landfill," said Tom Burton, President of Government Liquidation. "As an award-winning solution provider to the DoD, we are prepared to leverage our global and qualified base of professional scrap buyers to successfully auction the engines and oversee their scrapping at our Fort Meade site. Top priority for every sale remains on maximizing efficiency and recovery value for our government partner while adhering to safety, environmental and security compliance."
Built in the 1960s and used to power the C-5 Galaxy— the largest military airplane ever produced—these 11,000 pound, 8-foot tall, 26-foot long, 8.5-foot wide TF-39 engines were revolutionary by allowing increased thrust and lower fuel usage. The engines powered the Galaxy's 250-foot length and 230-foot wingspan, enabling the mammoth Vietnam-era plane to lift multiple combat vehicles, helicopters and other large military equipment.
For over a decade, Government Liquidation has been the exclusive sales channel for surplus property from the Department of Defense. Over 55 million surplus items and two billion pounds of scrap materials have been sold via its online auction site http://www.GovLiquidation.com. Bids for most items start at $150; this includes vehicles, medical equipment, aircraft parts, field gear, scrap metal and watercraft. Government Liquidation's extensive buyer base extends the useful life of these items by either refurbishing or repurposing the items for use in their own businesses.
The first TF-39 engine auction begins Friday, December 14 at 12 a.m. ET and closes Tuesday, December 18 at 5 p.m. ET. Bidding starts at $150. For more information on the auction including photos and placing bids, please visit: http://www.govliquidation.com/auction/view?auctionId=5811368&convertTo=USD
Additional auctions will be posted over the course of 18 months, with up to 100 engines expected. The engines will be sold in groups of eight to 12 via Government Liquidation's website.
About Government Liquidation
Government Liquidation (http://www.govliquidation.com), a Liquidity Services, Inc. (NASDAQ: LQDT) marketplace, is a contractor of the DLA Disposition Services for the sale of surplus and scrap assets of the United States Department of Defense. Government Liquidation operates an innovative and powerful online sales channel that enables surplus and scrap buyers to purchase available government assets in a convenient and open environment in over 500 commodity categories. For more information, visit http://www.govliquidation.com.