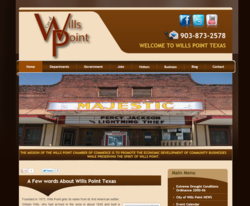 "The functionality...has been especially helpful with customer awareness as people really utilize the website."
Wills Point, TX (PRWEB) December 06, 2012
Texas-based city of Wills Point has re-launched a new and improved website to better service city residents, as well as visitors to the area. The overhaul includes a one-stop-approach for site visitors to all you need to know about the historic town that was created by marketing expert, Texas Biz Solutions.
"We needed an improved and more professional and functional website," said Carla Oldacre, Wills Point City Secretary. "Since we are a municipality, the functionality—particularly with utilities—has been especially helpful with customer awareness as people really utilize the website."
The new website links all of the supportive departments in the city, including utilities. Visitors will also find information on schools, community calendar of events and job listings. There are also links to the community profile, economic development and chamber of commerce. The historical value of the town—one of Wills Point's primary features—is also noted on the website.
Officially named the Bluebird Capital of Texas, Wills Point is a small city in Van Zandt County, Texas, with a population of approximately 3,900 people. Named after the first American settler in the area, William Wills, the city was city still offers the original red-brick road and many of the original buildings, including the Wills cabin and several other town stores. Properly formed in 1873, it was settled on the highest elevation point between Ft. Worth and New Orleans. The town was built around the Texas and Pacific Railroads, which pass through it.
Wills Point partnered with Texas-based Texas Biz Solutions for the overhaul. According to Oldacre, her experience with Texas Biz Solutions has been excellent. "The approach Texas Biz Solutions offered was useable and easy for me to understand."
For more information on the City of Wills Point, visit their website at http://www.cityofwillspoint.com.
Notes to Editors:
Texas Biz Solutions, with offices in both Dallas, Texas and Tyler, Texas, develops online marketing solutions for small businesses offering basic to comprehensive online marketing strategies for a competitively low price. These solutions include improving search engine optimization for top placement in Google+, building custom websites that integrate social media outlets, including Facebook, Twitter and YouTube, as well as custom management of online design and marketing strategies. For more information about Texas Biz Solutions, visit http://www.TexasBizSolutions.com.