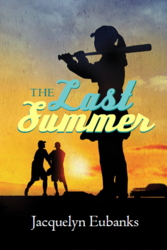 It is such a thrill to be selected as a Finalist for the 2012 USA Best Book Awards.
Chesterfield, Michigan (PRWEB) December 05, 2012
USABookNews.com, the premier online magazine and review website for mainstream and independent publishing houses, announced the winners and finalists of The 2012 USA Best Book Awards on November 16, 2012. Among those Winners is 15 year old Jacquelyn Eubanks. The Last Summer by Jacquelyn Eubanks was selected as Award-Winning Finalist in the 'Best New E-book: Fiction' category of The 2012 USA Best Book Awards. Over 400 winners and finalists were announced in over 100 categories covering print, e-books and audio books. Awards were presented for titles published in 2011 and 2012.
Eubanks wrote the first draft of The Last Summer when she was only 12 years old. The Last Summer reached #1 on Amazon in 3 different categories. The eldest in a family of three girls, the author lives in Chesterfield, Michigan, and attends Cardinal Mooney High School in Marine City. She enjoys softball, basketball and cheering on her beloved Detroit Tigers in her spare time.
Jeffrey Keen, President and CEO of USA Book News, said this year's contest yielded over 1500 entries from mainstream and independent publishers, which were then narrowed down to over 400 winners and finalists. Full results listing available online at USABookNews.com
Keen says of the awards, now in their tenth year, "The 2012 results represent a phenomenal mix of books from a wide array of publishers throughout the United States. With a full publicity and marketing campaign promoting the results of the USA Best Book Awards, this year's winners and finalists will gain additional media coverage for the upcoming holiday retail season."
USABookNews.com is an online publication providing coverage for books from mainstream and independent publishers to the world online community.
A complete list of the winners and finalists of The 2012 USA Best Book Awards are available online at [http://www.USABookNews.com.