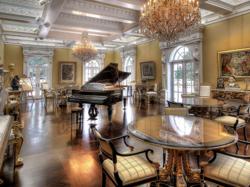 "Envisioned as a family retreat, the Johnson Point Estate was developed to celebrate the family's world travels and in memory of special moments spent together."-Jamie Michaud
Olympia, WA (PRWEB) December 04, 2012
Recently HGTV's Million Dollar Rooms arrived to the Olympia area to feature a $6,088,800 home worthy of the nationally recognized show. Filmed in August, Carter Oosterhouse interviewed listing agent Jamie Michaud of Realogics Sotheby's International Realty about the exquisite property. Jamie recently joined Realogics Sotheby's International realty because of their National exposure, and the in-house marketing firm that has assisted Jamie is reaching prospective clients on a Global level.
The Johnson Point Beach House was inspired by romance in all of the details. Upon entry the guest is immediately motivated to escape to another world engulfed in old world style and class. The grand double entry doors welcome you in; showcasing a romantic getaway inspired by far away travels. The featured space for the show, the Grand Venetian ballroom draws you in with breathtaking opulence of a room fit for a King. The two grand chandeliers featured in the show are antique pieces delivered from Czechoslovakia. Each piece of furniture has a story, and the beautiful Bosfndorfer grand piano with Ivory keys once toured the world as the previous owners Ken Broadway only adding to the allure of the space. The furniture, the art, and the finishes create a feeling of grandeur that absolutely epitomizes the luxury of this home. The design stems back from the "old world" masters and most notable craftsman. Throughout the entire estate lies significant artifacts, artwork and hand selected pieces from all over the world, all worth notable mention.
Taking nearly a decade to complete construction, every detail perfected throughout the entire property. Not a room or space spared, and the furniture and pieces throughout continue to tell the same story.