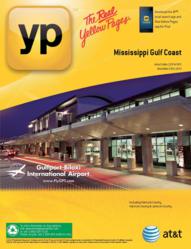 Gulfport, MS (PRWEB) December 03, 2012
The Gulfport-Biloxi International Airport, offering frequent, non-stop jet service to five major cities connecting to over 2,000 flights throughout the United States and the world, is featured on the cover of the 2012 Gulf Coast YP Real Yellow Pages directory.
Nearly 199,000 copies of the directory have been produced for distribution on the Gulf Coast this year. Delivery is underway and continues through December 10, 2012. The directory will also be available to new residents and businesses throughout the year.
"Every year, we look for an image of an event or landmark that reflects this wonderful area," said George Kushner, YP general manager-sales. "We are very pleased to feature the Gulfport-Biloxi International Airport on our directory cover. We think this beautiful facility and all it brings to the area fits nicely into our mission of helping local businesses and communities grow."
Gulfport-Biloxi International Airport offers a number of amenities to help make your trip comfortable and hassle-free, including free Wi-Fi, a covered 800-car parking garage, restaurants, a retail shop, and a USO lounge to serve our military.
"We are very pleased to have the airport featured on the cover of the 2012 Gulf Coast YP Real Yellow Pages directory," said Clay Williams, airport Executive Director. "As people from all over the country travel to visit the Gulf Coast area, one of their first impressions is our first class airport. Everyone associated with the airport has worked hard to make it a facility of which we can all be proud."