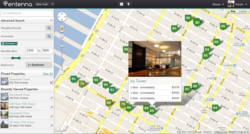 The new user interface provides renters with a more efficient and beautiful apartment search experience.
New York, NY (PRWEB) December 04, 2012
New York-based apartment listings and ratings site Rentenna released its new interface to all users today, following two months of behind-the-scenes testing and optimization across tens of thousands of site visits.
Featuring a modular layout and innovative data-delivery system built to harness the growing power of modern web browsers such as Google's Chrome and the latest versions of Firefox and Safari, Rentenna's new interface delivers an immersive apartment search experience that is equal parts visually stunning and blazing fast – and unlike anything else on offer on the web.
"The new user interface provides renters with a more efficient and beautiful apartment search experience," says Rentenna co-founder and New York Times rental expert Alicia Schwartz. "The modular layout, combined with the Rentenna Building Score system, lets users quickly filter down to properties of interest and get a feel for what it might actually be like to live in a particular building – well before the renter ever schedules a visit."
Key features of Rentenna's innovative interface include:

Visually rich, ultra-fast-loading search results;
An advanced sidebar search system that allows apartment-seekers to rapidly filter results based on location, price point, and desired amenities, as well as to jump between recently viewed properties with a click;
A modular, infinite-scroll layout that allows users to browse search results and property information with minimal clicking;
Auto-surfacing of relevant Yelp reviews for managers, buildings, and local restaurants and businesses;
An updated map function (a frequent user request) that plots all buildings meeting the user's search criteria – as well as each building's Rentenna Apartment Score – on an interactive Google Maps interface
The new features complement Rentenna's popular 1-99 building score system – a rating algorithm that lets renters quickly compare the relative value, amenities, neighborhood quality, and other features of the rental buildings that meet their search criteria.
Most significant from a technology perspective is the new user interface's modular design, which allows Rentenna's engineering team to quickly build, test, and release (or eliminate) new features to improve the rental search process.
"Our dynamic layout engine, combined with a statistical A/B testing framework, gives us an unprecedented ability to experiment with new features and optimize for the best possible user experience," explains CTO Kevin Dolan.
In non-geek terms, the modular layout means Rentenna can test new features, measure how useful those features turn out to be for its users, and rapidly improve on the best ideas while weeding out those that don't truly enhance the apartment search experience.
Indeed, while all visitors to http://www.rentenna.com can now experience the site's new interface, the startup continues to test-drive dozens of unannounced feature concepts that only a fraction of users will see before the features are approved for widespread release.
Rentenna is a groundbreaking interactive apartment search and comparison tool that rates rental buildings on a scale of 1-99, helping apartment seekers quickly and efficiently sort through thousands of options to find their ideal rental. Launched in New York City in 2011, Rentenna has been featured in The Wall Street Journal, New York Times, Curbed, The Real Deal, NY Post, AGBeat, The Huffington Post, BrickUnderground, and other leading publications.