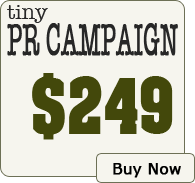 For most, the immediate burst in new sales will exceed the cost of a Tiny PR Campaign.
Nashville, Tennessee (PRWEB) December 04, 2012
TinyPRCampaign.com launches the first mini-publicity campaign to help small businesses who can't afford costly publicity services. Tiny PR Campaign clients receive a nationally-submitted press release, professional audio segment, blog posts, tweets, and more, for under $250. No contract needed. The Tiny PR package includes these services:
1. One professionally written press release submitted to over 280,000 opt-in subscribers, 10,000 news and media outlets, and up to 200 regional journalists.
2. One 60-second audio segment with professional narration
3. Five carefully crafted blog posts published on five websites.
4. Twenty Twitter Tweets seen by over 1,500,000 followers.
The Tiny PR Campaign service delivers a nationally-visible publicity and marketing package in a price range that most every business can afford, allowing them to use the marketing service as their budget allows. Some businesses see this to their advantage, by no longer needing a long-term expensive marketing contract when needing national publicity. Affordability without contract might be the niche Tiny PR Campaign captures now seeing that many businesses are coming back only weeks after their first campaign.
"Our goal was to create a short-term, high-impact publicity campaign that put the small business owner in control of his marketing budget. Tiny PR Campaign does this, since businesses can simply buy as many Tiny PR Campaigns as they need, and only when they need them, vs., being obligated under contract. The trend we're seeing is that many business are buying multiple Tiny PR Campaigns each month. It makes sense to advertise when you need it, and shut it down when you don't", according to Drew Bourke, president of Tiny PR Campaign and Starmaker PR group. Follow Starmaker PR Group on Twitter for updates and possible volume discounts at @StarmakerPR.
Businesses may also opt. for additional services, such as a WordPress website, with or without a premium graphics theme installed, and also a 60-second YouTube video that utilizes still images along with the audio produced in the 60-second audio segment that's already included in the basic Tiny PR Campaign package.
According to Mr. Bourke, "This is the service I wish was available in 2003. I was managing iAmerica.com, an incredible social networking platform that could have given Facebook a run for it's money. The iAmerica owners could not afford a full-blown publicity campaign and it just fizzled out. Costing less than $250 and without any contract, there's not much risk involved. For most, the immediate burst in new sales will exceed the one-time cost of a Tiny PR Campaign."
Details about Tiny PR Campaign can be found on their website at http://TinyPRCampaign.com.