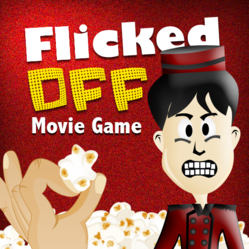 ...to all those who want a fun and free mobile game for their iPhone or Android phone, Dream Bot Studios encouraged them to like its Facebook page today and start enjoying the game
San Jose, CA (PRWEB) December 04, 2012
Following its Thanksgiving surge, mobile game downloads are expected to rise again this holiday. However, it isn't just the number of downloads that is sure to grow. Even the list of mobile games is expected to get longer. And one of the mobile game apps that iPhone and android phone users should watch out for is Dream Bot Studios' Flicked Off at the Movies.
Flicked Off at the Movies by Dream Bot Studios is basically a mobile game set in a movie theater. It is a fun app designed with funny characters, cool powers and hilarious animation and sound effects.
Watch the Flicked Off at the Movies Video Demo Now!
In the game, the gamer have to particularly piss off the men walking at the front of the movie screen by throwing things at them until they call the usher. Those things could either be a candy, tissue paper, pizza, pop corn or even a mobile phone. Each of them got a point equivalent. Same is true for each man hit or sent outside, even the usher.
To advance to higher levels, a gamer has to beat the limit set. Apart from that, he or she must also piss off the usher, who could have various special powers.
Dream Bot Studios' Flicked Off at the Movies is set to be released soon for $0.99. However, the game development company recently decided to offer it for free to family, friends and whoever who will like its Facebook fan page. And so, to all those who want a fun and free mobile game for their iPhone or Android phone, Dream Bot Studios encouraged them to like its Facebook page today and start enjoying the game.
Like Dream Bot Studios Facebook Fan Page Today and Enjoy the Fun and Free Game!