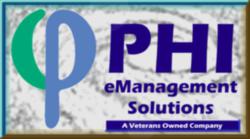 Every home needs to have an emergency plan and the resources to survive for 72 hours before help arrives.
Newmarket, NH (PRWEB) December 05, 2012
Fire Chief George Klauber from Derry, New Hampshire was the Guest of PHI Management Solutions during their monthly radio show which aired on WSMN Radio 1590AM Nashua NH. Chief Klauber is an expert on many topics to include both fire safety and emergency management. In addition, he was recognized as the New Hampshire Emergency Management Director of the Year for 2009.
Klauber was interviewed by Ralph Huber, President of PHI Management Solutions, James Moody and Gilbert Colon, both Vice Presidents. The main topic of the conversation was winter preparedness and holiday safety.
Klauber emphasized the importance of fire safety during the holiday season. Many people celebrate the holiday season by bringing live trees into their houses. The live trees, he said, tend to dry out over time, and can become fire hazards. Klauber recommends that everyone keep candles and other sources of ignition well away from their live trees. He also urged everyone to be careful with candles because many home fires are caused by their improper use. Learn more about fire safety by visiting the PHI Fire Safety page .
Other sources of winter hazards are fireplaces, wood stoves, and space heaters. Klauber talked about the fire hazards but emphasized the dangers from carbon monoxide. Carbon monoxide, he explained, is an odorless gas that can be fatal. Klauber also explained that any heat source that burns fuel generates carbon monoxide and needs to be properly vented. He also added that every house should have both smoke and carbon monoxide detectors.
Klauber also commented on preparing for winter weather. He mentioned that everyone needs to be prepared for the possibility of extended power outages. Generator safety is paramount, he said. Used improperly, a generator can be an electrocution hazard and if placed improperly can release carbon monoxide into a house… which can be fatal.
When asked how he prepares at home, Klauber said that every house should have an emergency plan and an emergency kit. Klauber emphasized having extra flashlights on hand and said that he keeps one in every room. Klauber explained that you never know where you may be when the lights go out and it is important to be able to see and find your way in a dark house.
You can listen to the complete podcast by downloading it from the PHI Management PODCAST Library .PHI Management Solutions also carries a complete line of emergency preparedness products to include their bestselling Zombie Apocalypse Survival Kit. Visit PHI Management Solutions Preparedness Center.
PHI Management Solutions, Emergency Management Division, offers many different home and institutional products for emergency planning. They also have free downloads and information links designed to inform and assist individuals, families, organizations and businesses prepare for emergencies. Our team is composed primarily of veterans with over 90 years of combined service. Each member of the team has proven themselves through combat command and has extensive experience in disaster response and planning. Team members have commanded response forces and/or participated in several disaster responses to include the 2005 crash of a civilian airliner in Afghanistan, Hurricane Katrina 2005, Southwest New Hampshire Flooding in 2005, New Hampshire Statewide flooding in 2006, Epsom, NH tornado response in 2007, the 2008 New England Ice Storm, 2009 Anthrax Response in Durham, NH, the 2010 Wind Storm, Hurricane Irene in 2011, the October 2011 New England Snow Storm and Super Storm Sandy in October 2012.