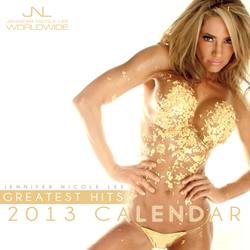 Jennifer Nicole Lee She is quite the Cinderella story as she went from being an overweight fat, frumpy and lonely housewife to now one of the world's most famous and sexiest women alive.
Miami, Fl (PRWEB) December 05, 2012
Jennifer Nicole Lee has been featured in her own calendars since 2004. Nine years later, this super fitness icon and fierce fitness model shows no signs of slowing down. Her current 2013 calendar is a collection of her most noteworthy masterpieces, capturing her greatest hits from the past and present. She states "I could not be more proud of this opportunity to share with my JNL nation and the world the final product of my many years in the fitness and modeling industry. Many of the photos were shot in location on Miami Beach or in my own Fitness Model Factory production studios. I dedicate this calendar, which is indeed a miracle in itself, to all of the women who are silently suffering with their own negative self-talk. I pray that my calendar motivates real women everywhere and gives a real empowerment to get real results in their own life. I don't see this as a calendar. I see this as a motivational tool for all women who can celebrate positive body pride in knowing that strong is the new skinny, and that curvy is the new healthy."
Jennifer Nicole Lee celebrates this calendar with all of her fitness friends, fans, associates and colleagues worldwide. When asked what it feels like to be releasing yet another calendar out into the world, JNL states "I'm honored to share with the world my passion for my art form which is fitness, physique, beauty, and glamour modeling. I grew up not being tall enough, thin enough, not light-skinned enough, and not pretty enough. I dealt with a great deal of rejection. I grew up very poor. I went from rags to riches, from being overlooked to being highly sought after, to being the underdog, to being the champion and it's all to the power of my mindset. My mission with this calendar is to inspire and push other women to chase their dreams."
Jennifer Nicole Lee's past calendars have hit record sales. The 2012 calendar was a 16 month calendar dedicated to the art form of body painting. This year, she went a different route. When asked why she decided to do a collection of her greatest hits for her 2013 calendar, Jennifer stated "my team and I were at my Fitness Model Factory headquarters in Miami. We were having a conference around the table and idea popped up of how music artists take their greatest hits from all their albums and repackage and sell it. The idea came to us to then take my greatest hits, my most memorable photos both past and present-the ones of most talked about, the most downloaded, and the most requested and compile those into my 2013 calendar. It also shows how long I've been in the industry and that my stick ability is strong. I also want to prove to the naysayers that I haven't fallen through a crack and I don't plan on disappearing anytime soon. And also showed my fitness friends and JNL Nation worldwide that they will always have me to learn from and lean on."
Jennifer Nicole Lee shot to fame after losing 80 pounds of the birth of her children. She is quite the Cinderella story as she went from being an overweight fat, frumpy and lonely housewife to now one of the world's most famous and sexiest women alive. She is motivation for all real women who want to look and feel their best. Jennifer Nicole Lee defied all odds when she set her mind to finally get in shape not only for herself but to prove to the world that mothers only get better with time. Jennifer Nicole Lee is often been quoted stating that it's not being perfect but yet persistent when achieving one's lifestyle goals.
For more information please visit http://www.shopjnl.com
http://www.JenniferNicoleLeeFB.com is Her Official Facebook Page