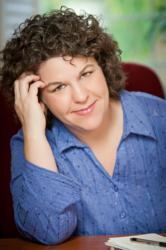 Practical tips for turning ordinary moments into opportunities for spiritual growth punctuate this clear and affable spiritual guide for the rest of us.
—Publishers Week
(PRWEB) December 04, 2012
Pulling a raisin out of a two-year-old's nose probably wasn't on Buddha's path to enlightenment, but it was an aha! moment for author Polly Campbell. In Imperfect Spirituality, Campbell shows how to integrate those everyday moments with traditional spiritual techniques to increase personal growth and well-being. Imperfect Spirituality is filled with practical tips and dozens of examples that will encourage everyone to amp up optimism, let go of worry, and embrace their authentic self to offer their true gifts to the world.
Polly gives helpful advice on non-tradtional ways to cope with holiday stress on her Imperfect Spirituality blog. She also recently wrote an article for Huffington Post's GPS for the Soul about finding peace in the messiness of life.
Listen to Polly on these great radio programs coming up:
12/11:Boomer and the Babe - 11am PST
12/18: Unity Church Ft Worth Radio - 11am PST
1/9: Rainbow Visions Radio - 5pm PST
1/9: Energy Awareness Radio - 3pm PST
About the Author:
Polly Campbell is a writer and speaker specializing in personal development and spirituality topics. Her work appears regularly in national publications, and she is a blogger with Psychology Today, teacher for Daily Om, and at Imperfect Spirituality. For more than two decades, Polly has studied and applied the techniques she writes and speaks about to her own life.