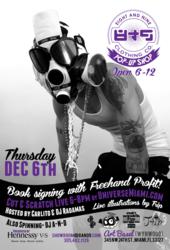 "It's really rare to come across someone with such a unique, undeniable talent." Owner, Ray Guilbault on Freehand Profit
Miami, FL (PRWEB) December 04, 2012
During 8&9 Clothing's Art Basel Pop Up Shop Freehand Profit creator of the sneaker gas masks and author of Army Of The Undeadstock will make his first Miami appearance. The gallery opens Thursday at 6pm with an RSVP only book signing sponsored by Hennessy VS.
8&9 Clothing is a Miami based streetwear brand. 8&9 is known among sneaker heads and streetwear connoisseurs as one of the east coast's fastest growing brands. Their Pop Up Shop featuring Freehand Profit is an extension of previous collaborative work. Owner Ray Guilbault says of Freehand Profit "It's really rare to come across someone with such a unique, undeniable talent. We're super stoked to work with him again and honored to bring him to our Art Basel Pop Up Event."
Freehand Profit is an LA based artist well known for deconstructing collectible sneakers, transforming them into working gas masks. His cult like following parallels 8&9's making the collaborative event one sneaker heads and art enthusiasts will appreciate. Thursday's event is RSVP only via email to showroom(at)8and9(dot)com for more information the contact number 305.482.1126 has been provided.
The 8&9 Pop Up Shop is located in Miami's Wynwood Art District at 345 NW 24th Street. More 8&9 Clothing can be seen at http://www.8and9.com or via @8and9 on twitter where fans can also follow @freehandprofit